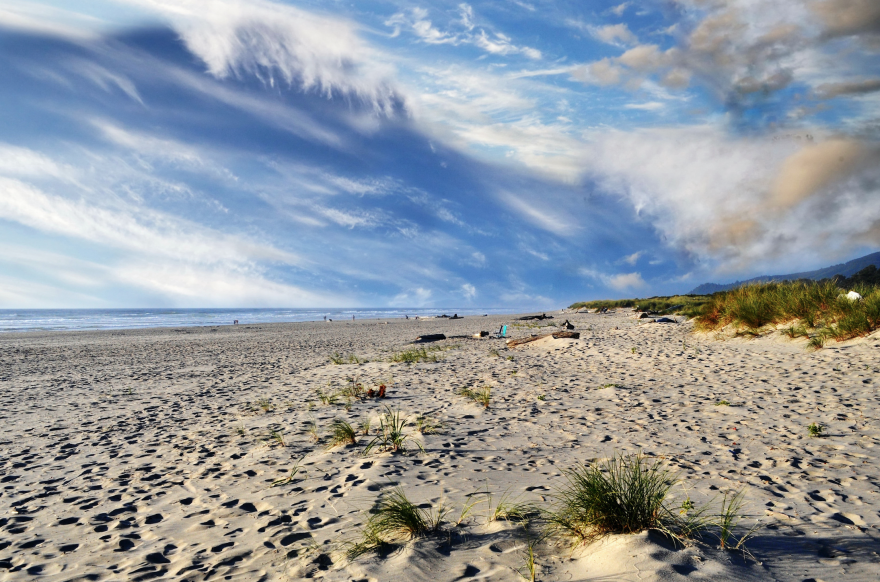 For a weekend escape on the waterfront, Nehalem Bay State Park encompasses the beauty of the Oregon coast. Situated between the bay and the Pacific, the park is about 86 miles west of Portland. Whether visiting or camping, you can enjoy this stretch of sand dunes and oceanside pine trees. This meeting of sea and forest is sure to delight any outdoor lover, offering a stunning view and soothing breezes.
Camping at Nehalem State Park
When it comes to Pacific Northwest camping, this park truly offers something for every adventurer. Nehalem Bay has 265 electrical sites with water hookup, as well at 18 yurts. There is also access to flush toilets and hot showers. For more rustic camping, there is a horse camp with 17 primitive sites. And for those who want to arrive by sky, there is a 2,400 foot airstrip with access to an airport camp. Cyclists can enjoy a hiker/biker camp during their stay.
Available reservations vary by season, so be sure to book your stay in advance.
Exploring Nature on Foot And Bike
The breezy Oregon coast is ideal for a day of wandering, and Nehalem Bay State Park adds extra beauty to this experience. Cyclists can grab their bikes and cruise the 1.8 mile-long path through the bayside forest. As you soak in the views of the water, keep your eye out for wildlife. You might catch native deer, elks, birds, and even coyotes.
With the stretch of dunes making up the state park, visitors can meander around the beach as well. As you walk along the sand, you might find interesting shells and sea glass peppered across the shore. You may decide to explore the dunes or simply pause for the afternoon. Either way, this park is a wonderful place to disconnect and enjoy the sound of the tide.
Whether camping for a long weekend or escaping for a quick day trip, Nehalem Bay State Park is an ideal location for exploring, resting, or staying active. You can experience the dreamy landscape on horseback or enjoy a campfire with your family. No matter how you choose to soak in this coastal landscape, you are sure to create a memory that lasts.
Image Courtesy of Shutterstock