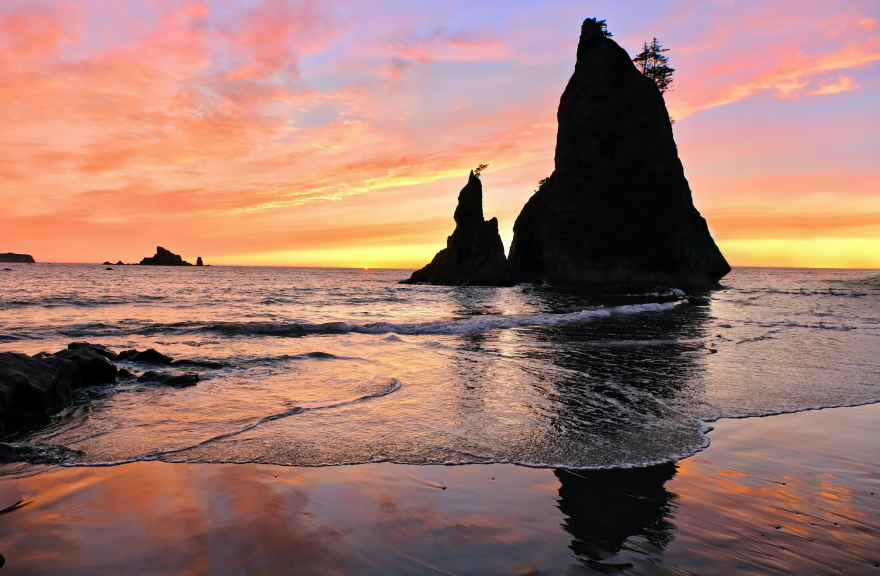 Olympic National Park stretches across the Northern Washington coast and has become a popular destination for all types of outdoor enthusiasts. Rialto Beach is a rocky gem among the many beautiful sites in the park. This pebbly beach offers a breathtaking view of the Pacific, and the stretch of sand is broken up by giant pieces of driftwood. Rialto is an access point for several trails, but it can also be a stop to spend a day by the water.
Beach Hiking and Trail Access
Rialto Beach gives way to a 1.5 mile trail leading to Hole-in-the-Wall, a serene seaside scene with eroding rock structures and tide pools. Here you can explore the coast and spot tide animals like sea stars. Just be sure to keep track of the tide if you plan to visit Hole-in-the-Wall, as it is best accessed during low tide.
This beach is also an important destination for more serious PNW trekkers. Rialto Beach is the  southern tip of the 20-mile Ozette loop. Hikers looking to camp at the beach and other Ozette camping areas during their journey should obtain permits at the Wilderness Information Center in Port Angeles.
Guests are also welcome to enjoy fires in existing rings and on the beach with driftwood.
Abundant Coastal Wildlife
As with the rest of Olympic National Park, Rialto Beach is a wildlife enthusiast's viewing point for interesting animals. Birdwatchers can spot eagles, seabirds, and other birds of prey swooping along the shore. You may also see otters and sea lions living on the coast. And during whale season, you can spot whales making their way along the shore.
During low tide, the sea opens up to show shallow tide pools. Here you can spot sea stars, crabs, barnacles, clams, sea snails, and wolf eels. The tide pools are especially abundant from March to September. Whether you are a wildlife photographer or are simply curious, a day or weekend at Rialto Beach can be an exciting opportunity to glimpse unique species.
Olympic's Seaside Treasure
With a breezy coast and lush forest,Rialto Beach is your destination for adventure. By hiking or camping along this beach and the surrounding areas, you can immerse yourself in the beauty of the Washington Coast, checking off another destination on your outdoor travel list.
Image courtesy of Shutterstock