[starreviewmulti id="2" tpl="20" style="nethub"]
Trusted Review™ Scorecard
Average Score: 5.0 out of 5.0
Each product or service is rated on Quality, Reliability, Price/Value, and Referability. Each area has an individual score, and creates an overall Trusted Review™.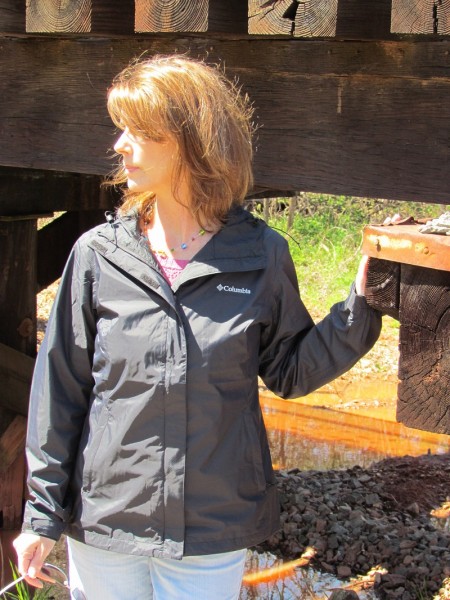 Columbia is a company that understands women. Specifically, Columbia knows women want to play hard and still look feminine. The Arcadia II jacket is an excellent example of the comfortable, durable, functional, and attractive clothing women desire for their outdoor adventures. It has a multi-layer weather protection system that keeps outside elements from getting in, while still allowing moisture to move away from your skin. Think of it this way—if you're taking a brisk hike and it starts to sprinkle, you're covered inside and out. Also, the jacket folds into a small self-contained bundle so it won't take up much space in your backpack when the sun returns.
Spring weather is unpredictable—especially in Oklahoma, and it's important to be prepared for the temperature fluctuations and changes in weather. One of the features I really like about the jacket is that it has a feminine cut, but it doesn't fit so snug that you can't put on at least one layer underneath if the weather calls for it.  In addition, the jacket is hooded and includes a drawcord adjustable hem, zippered hand pockets, and Velcro to tighten the cuffs. From Saturday morning ball games to weekend camping trips, this one jacket will handle all of your outdoor, spring activities—and you'll look great while doing them.
Quality
I have never owned a Columbia garment that was not high-quality. This jacket is no exception; I was impressed with its durability and the fact that it weighs almost nothing. In addition, the jacket is ultra-light and comfortable. Additionally, Columbia's microporous Omni-Tech is breathable and waterproof.
Reliability
The jacket is stylish enough to wear for everyday activities and tough enough to endure more rugged outdoor adventures. Basically, I wear it all the time. It's the perfect spring jacket. It does require special handling when washing. You will want to make sure to wash separately in cold water and lay flat to dry to prevent any shrinking or damage. To ensure the longest life possible, I would recommend using Nikwax Tech Wash. Nikwax Tech Wash is specifically designed and optimized for breathable waterproof fabrics.
Price/Value
This jacket is a steal for the value. It's attractive, waterproof, comes with a hood and fits nicely while allowing for layers. This is hard to find for the price! When you research rain jackets online, the overall consensus is that you should expect to pay over one hundred dollars for a quality rain jacket. The Columbia Sportswear Arcadia II is listed for $59.99 on Dick's Sporting Goods. This is a great value.
Referability
I think all women should have at least one of these rain jackets, if not a couple of them. It comes in a variety of colors—pinks, greens, blues, white, and black. I have it in black, but I think I would like to get a brighter color as well. It's the kind of jacket that after you buy it and wear it, it becomes a necessity. Honesty, I like it that much. Buy this jacket, you won't regret it. Buy your husband one too. The men's version, Watertight II, is just as nice.
Image by Andy McDaniels