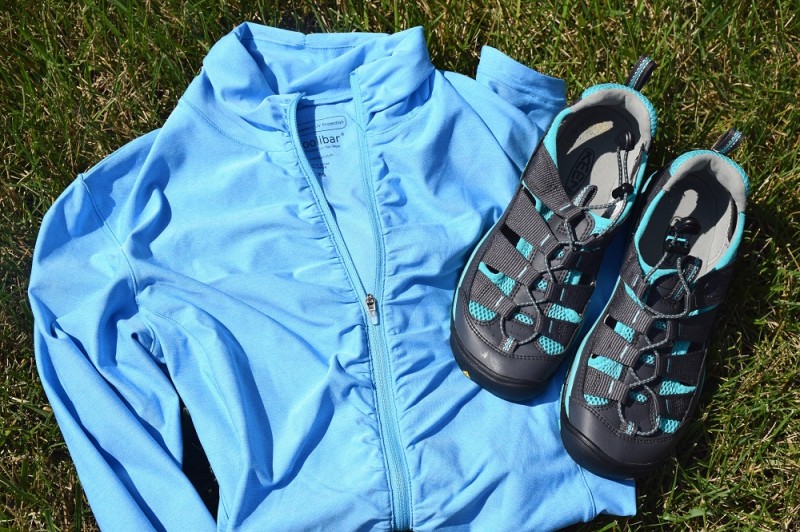 Just because the weather is starting to cool down doesn't mean you have to give up water activities. In fact, with the right equipment, you should be able to enjoy paddling sports late into the fall, depending on where you live. I was excited to get products to review from both KEEN and Coolibar that would help me gear up for my upcoming water adventures.
The idea of a water jacket is pretty foreign to me. Most of the time if I'm on the water, I either need a wetsuit for waterskiing, or I just want my bathing suit and throw a T-shirt over it if the water is particularly cold. But when I got this product from Coolibar, I decided it might be time to leave the T-shirt at home.
At first glance, the Ruche Water Jacket looks like stylish running gear, which is actually one of the best uses for it. Light and breathable, you will be hard pressed to find a jacket that fits as comfortably as this one. This is a common problem for me because of my size, with jackets tending to hang loose or cut off my circulation. Coolibar's jacket fit me perfectly, hugging my arms and hips without making me feel restricted.
I loved the cool blue color, which is not overwhelmingly bright, as well as the ruching around the zipper, which adds something extra to the design and makes the jacket look high-end. The high collar offered extra protection and actually wicked away sweat as I ran. The sleeves run a bit long—something I loved because I pull mine way down when I'm cold. But for those who want to push them up, they easily stay in place. Two pockets, which are somewhat hidden on both sides, are well integrated into the design, but I was bummed they were so small. I was unable to fit my phone into them, making jogging with my electronics a little tricky.
One of the best features of this jacket is that, besides being completely water-friendly, it also offer 50+ UV protection. I wore it all day on the boat and completely avoided the sunburn my friends suffered. I also loved that, even when I jumped in the water with it on, it remained comfortable and light. And, once I got out, it dried quickly.
The price is the most off-putting part. Though they are currently on sale, the regular $85 is a bit steep for my budget. However, if you love the water and want to be outside as much as possible, a jacket that keeps you comfortable and protected from the sun's harmful rays may be worth the investment. Rating: four out of five stars.
I am not a big water shoe fan. Classically, models are unattractive and uncomfortable, with pebbles and sand somehow working their way into the hard-to-remove mesh shoes. So in KEEN's Gallatin, I was hoping to find something a little more protective that offered supreme stability and style.
Style is where these water shoes excel. I had many people tell me how much they loved the design, which resembled a slip-on shoe, as well as the teal/grey color combination. The more open upper, while stylish, did allow its fair share of rubble to get into the shoe. But thanks to the easy-pull tabs on the heel and the tongue, I was able to remove any annoying pebbles with little trouble.
The sole is a very thick and durable rubber with small, multi-directional razor cuts that helps them easily adapt to any terrain without sacrificing comfort or support for your foot. The website suggests that you can even run or hike in these shoes, and, though I only walked around in them, I was impressed they transitioned to off-water surfaces so well. The inside also had a great amount of arch support and padding that protected me from being bothered by the rocks beneath me, making the shoe so comfortable I forgot it was on.
The fit, which runs a little small and narrow, was one of my favorite features because it meant my foot did not move around. For people with wider feet, the shoe can be expanded with the help of the bungee laces, but you should consider getting a size up if you have wider feet. Overall, this tight fit meant great stability for kayaking and whitewater rafting. If I fell or tried to run through the water, I did not have any fear of losing the shoes or my footing.
Once again, the worst part is the price. At $109.99 these shoes are at the high end of the price range for water shoes. Overall, 3.5 stars out of five for KEEN's latest model. I hope the brand continues to produce high-quality water shoes, but drop the price down so I can afford another pair.
Images by Lauren Montemurri