[starreviewmulti id="2" tpl="20" style="nethub"]
Trusted Review™ Scorecard
Average Score: 4.3 out of 5.0
Each product or service is rated on Quality, Reliability, Price/Value, and Referability. Each area has an individual score, and creates an overall Trusted Review™.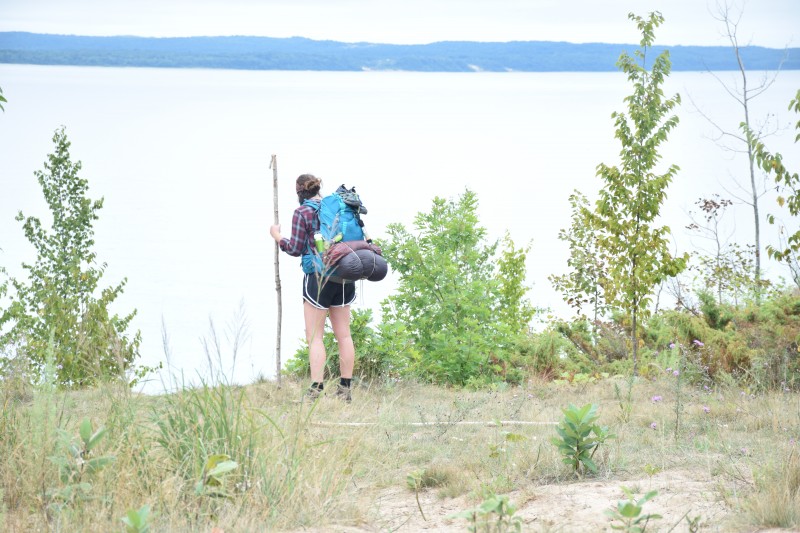 High Sierra recently sent me a women's Lightning 35 Frame Pack to use during a long weekend backpacking trip on Michigan's North Manitou Island. A bit larger than the brand's Piton 30 Frame Pack I reviewed at the beginning of this summer, the Lightning 35 was more on point with the size of pack I needed for this trip. In my previous review, I found the Piton 30 to be somewhat of an awkward size. It's a bit too large to be considered a day pack, yet a little too small for a weekend trip—at least if you're hauling all of your own gear. For example, you could easily strap on your sleeping bag or tent via the bottom straps, but probably not both. While the Lighting 35 lacked those bottom straps completely, there was plenty of room to secure my own that would fit both a tent and sleeping bag without overpowering the size of the pack. However, I lent the Piton 30 to my 5'2″ friend who accompanied me on the trip, and its size was perfect for her small stature.
For clarity, I reviewed the new version of the women's Lightning 35, which is part of the Tech II Series and will be available in spring 2015. It will be for sale in a turquoise option (my pack), as well as in red. The multi-day pack is lightweight, uses hex air mesh fabric on the suspended AIRFLOW back panel, shoulder straps, and waist belt—it helps to wick away moisture and reduce perspiration. It also features Duraflex hardware such as aluminum tube and cord zipper pulls, as well as a stretch mesh front pocket for quick access.
Additional Features:
A removable shoulder strap-mounted media pocket keeps your GPS or phone close at hand and protected from the elements.
Integrated dual stretch mesh side and front-mounted pockets are positioned at an angle for easy access to smaller gear or extra layers.
The stretch mesh compresses to the pack, eliminating the need for a zipper or cinch cord.
Air travels easily through the stretch mesh, allowing wet items to dry easier while keeping them separate from the main compartment.
The adjustable lid has an outer zippered pocket—inside that pocket is a smaller zippered pocket with a key fob, allowing two layers of protection for smaller items.
The lid also has an external stretch cord to secure a light shell, map, or hat.
The countered pivoting waist belt has two large zippered pockets for quick-reach items.
External webbing loops are positioned lower to easily grab trekking poles or an axe.
As for the pros and cons, let's start with the cons first—I like to end on a positive note. Immediately after arriving on North Manitou from the hour-long ferry ride, our group of four headed to a picnic table outside the ranger station with the intent of grabbing a snack, refilling water, changing into cooler clothing, and adjusting our packs for the roughly five-mile hike. After a mile or so, I wondered why my shoulders were in so much pain. Yeah, I hadn't been on a backpacking trip in more than a year—at least one carrying that much weight—but there was no reason I should be struggling after only a mile. My friend quickly discovered the problem. The straps that secured the very top of the pack closely to my back were loose. Once tightened, the pain went away. Unfortunately, I had to keep re-tightening them every few miles.
Other than the issue with the fitting of straps, the only other problem I ran into was fraying at the end of the straps that was evident by the end of the trip. Because it was the first time I used the pack, and didn't think I put it through too much rugged terrain, I didn't expect the straps to show wear that soon. It wasn't a huge problem, not like zippers jamming, but enough that it was a little disappointing. To note, if you're backpacking in snowy or sandy areas, be prepared to shake out your pack, as it captures both within the mesh back panel. However, I'd rather have a more comfortable pack that you have to shake out once in a while.
Now, onto the pros. The fabric of the straps and waist belt was comfortable, leaving only a little irritation on my shoulders after removing the pack, which is expected considering the weight I was carrying and miles I was hiking (between five and 10 each day, for three days). Typically, I wear a tank top and notice a ton of irritation from straps because of sensitive skin, but this pack didn't cause any problems. It was also pretty great when it came to moisture control. Yeah, it was a little wet with perspiration, but not bad. It was more so the back of my tank that was soaking. It might be important to note that I was hiking in about 70-degree weather with high humidity. At 5'11", I tend to have a difficult time finding a pack with a waist belt that works for me. I've found that with most women's-specific packs, there's not enough space between the top of the shoulder straps and the waist belt. If you're tall, the Lightning 35 is a good buy.
In regard to organization, I was pretty impressed. Starting at the bottom of the pack, there's a thin pocket that includes a built-in rain cover, which I unfortunately had to use on the last day of the trip when our ferry was delayed a few hours thanks to severe thunderstorms in the area. It was extremely thin and took up little space. There were mesh pockets on each side of the pack, perfect for my two large water bottles. They even had straps around them that tightened to ensure your bottles stay in place. Coming around to the waist belt, there's a zippered pocket on each side, ideal for a compass on my left and an energy bar on my right. In the middle of the back of the pack, a mesh pocket was great for storing a small lantern, sunscreen, and my phone (plus its large waterproof case). The top lid of the pack features internal and external zippered pockets, as well as bungees on the outside that I used to secure my water shoes. On the inside of the pack on the back side is a thin pocket with an elastic opening that was great for storing dirty clothes and my book, which I wanted to keep somewhat flat. Other than that, the main body was fairly open and easily fit my sleeping pad, towel, clothes, cooking utensils, larger lantern, food, etc. I attached my sleeping bag and tent to the outside with rope.
I've found the one feature I truly need in a pack is a bit hard to come by. Some day, I would like to purchase a pack that opens multiple ways—namely, the entire body of the pack opens like a duffel as well on the top. This is great for easy access. If you're like me and are constantly tearing your pack apart to find that one lone spork that fell to the bottom, a duffel opening may be the best option. But for the trip I was on, the Lightning 35 worked well.
Images courtesy of Ariel Black/High Sierra