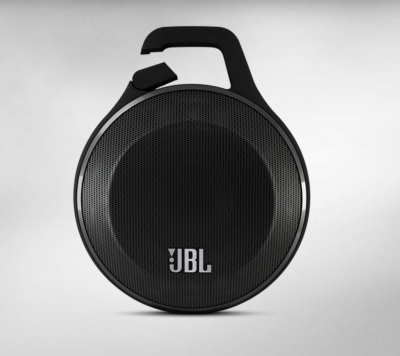 ActionHub writers Ariel Black and Lauren Montemurri were recently able to review the JBL Clip and the JBL Synchros Reflect-I headphones, respectively. Ariel was looking for a bluetooth speaker that would be perfect for summer days spent boating as well as one that could hook onto her bag during hiking trips. Lauren, an avid runner, was in search of headphones that wouldn't need to be constantly readjusted during her workouts. Check out what they thought of the JBL products below:
JBL Clip
Although it's not waterproof, this speaker was exactly what I was in search of for summer days spent boating with my family and friends. Bluetooth capability was a must, and it took all of five seconds to turn on the speaker and connect it to my iPhone.
I mainly used Spotify, which didn't always have the best connection while boating in certain areas of Lake Huron. This created quite a few pauses in the music, which I initially assumed was a malfunction of the speaker. The bluetooth connection remained, however, and once I started playing music from just my iTunes library, pausing was no longer a common problem. While using the speaker in areas with far better connections, I had no issues. The Clip also has a cord that can be plugged directly into your phone for connectivity, as well as a simple USB cord for charging.
Because my family has used the same radio at our cottage for probably the last 15 years, it was time for an upgrade. They were all very impressed with the Clip, especially the sound quality and convenience of being able to play the exact song they wanted to hear at that moment.
The Clip offers five hours of battery life, although I probably only ever used it for about four hours consecutively. I recharged it between each use, as I didn't want to run out of battery while in the middle of a lake. A feature of the speaker that I didn't have the chance to use was the speakerphone. You can answer calls and still have a conversation through a built-in microphone in the Clip.
The second place I reviewed the speaker was on the trail. The built-in carabiner is how the product earned its name, easily latching onto your backpack. Although I tend to simply enjoy the sounds of nature while hiking, it would be especially useful on weekend trips when you're around the campfire and ready to hear some music after a long day.
I'd say the price of $50 is pretty fair, as well as on point with similar bluetooth speakers in the market. In addition to black, the Clip is also available in blue, gray, purple, and red.
JBL Synchros Reflect-I Headphones
JBL has done the impossible and restored my belief in runner's headphones. For years I have been buying up brand after brand, looking for something that will stay put during my runs, but with very little success. To be fair, I was also unwilling to pay an obscene amount for some higher-end brands, figuring that headphones, no matter how well made, are still something that probably have to be replaced every few years.
So, when JBL sent me the Synchros Reflect-I headphones, I was incredibly skeptical. But after my first run with them, I threw the rest of my stock pile away.
At first glance, these earbuds look a lot like other popular active headphones. The cord, which comes in neon colors and features a reflective silver cable (how it earned its name), is thicker and sturdier than what your average earbuds offer. It also comes equipped with a volume controller and clip. What sets it apart is length, which is much shorter than standard models, but is supplemented by an extension cord that can be added depending on your preference. For me, this made connecting to my small iPod, which I clip to my tank top, way easier. Once connected and clipped, I was able to run without the hassle of messing with a long, flopping chord.
The earbuds may be my favorite feature though because, for the first time, no matter how much I sweat, jumped, or moved, they actually stayed in place. The reason is the intricate design, customizable depending on your ear size thanks to the inclusion of three different rubber outers. One part goes inside your ear, while the larger rubber outside creates suction. The ear pieces are easily secured by pushing in and then slightly turning so that the hooked rubber eartip molds to your ear. The result is an earphone that remains in place, all while offering unexpected comfort. I was pleasantly surprised that I never had to readjust, and actually forgot they were in after a few minutes.
Though they might not amaze music aficionados, I found the sound quality to be relatively impressive. Music came through crisp and clear with a strong bass and without feedback.
While I reviewed the Synchros Reflect-I headphones made for iOS, they're also available in a Synchros Reflect-A, made for Androids, and a Synchros Reflect-BT, for bluetooth. The $60 price tag may be steep for some, but if you're an athlete who loves to listen to music while working out, they really are one of the more affordable high-quality options on the market.
To check out additional products, visit the JBL website.
Images courtesy of JBL