[starreviewmulti id="2" tpl="20" style="nethub"]
Trusted Review™ Scorecard
Average Score: 4.5 out of 5.0
Each product or service is rated on Quality, Reliability, Price/Value, and Referability. Each area has an individual score, and creates an overall Trusted Review™.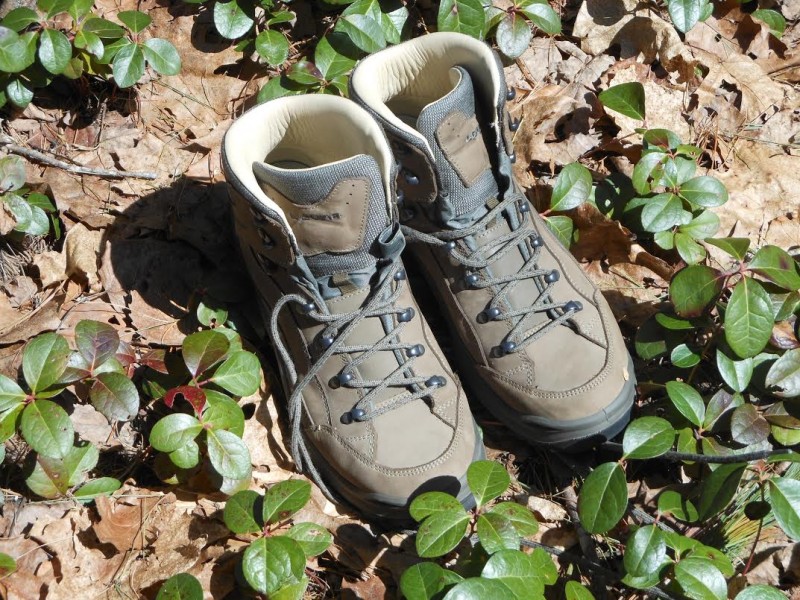 On the trail, boots have to be your best friend. They can make or break your day. Scree scrambles, wet rock-hopping, oozing mud, and slippery snow are all part of the routine on the trail.
Then there's the fit and support for ankle, toe, and heel. They all take a beating and hot spots can lead to blisters, which can lead to misery and potential advanced injury.
Think of the Lowa Renegade LL Mid Men's Boots as trail companions. The multi-functional boot is touted as an all-terrain vehicle, good for both traipsing the hiking trails and tooling around on a mountain bike.
These aren't rough riders built for making long-distance hauls on famed trails like the Pacific Crest or Appalachian. Instead, they are faithful foot soldiers for legions of weekend warriors looking for lightweight reliability in the woods.
The LL stands for leather lined. And though there wasn't a new car smell in these sleek brown puppies, they do have a soft, supple interior. Comfortable too. Billed as having no break-in period, the shoes did fit well smack out of the box. Instead of moving straight to the high mileage lane, I did ease into them during a moderate three-mile hike in New Hampshire's White Mountains that saw a myriad of trail conditions in the waning days of a stubborn winter.
No blisters, no problems, and plenty of ankle support.
Later on, the boots also spent time in Tuckerman Ravine on the shoulder of Mount Washington with its copious rocks. Sure, there were some slick spots but nothing I haven't experienced before with other boots made by other manufacturers.
The boots aren't waterproof—they're water resistant. They did do well in muddy conditions and in subsequent outings as well. But with melting snow and in some puddle-jumping episodes, the boots definitely got soggy. I didn't use any protective coating spray on them, which could be another line of defense.
That said, the boots are solid underfoot with grippy Vibram soles for fine traction.
I also used them for mountain biking. For mountain bikers using clip-in pedals, the boot isn't an option. For mountain bikers wanting quick response time during battles with trail dragons like stumps, hidden rocks, and slippery roots, the boots are supportive. While riding, they were an easy pedal. And when the trail became wet and muddy, walking was certainly easy in a pair of hiking boots.
Whether hiking or biking, the boots were simple to lace and tighten, making them snug. Having laces unfurl on the trail can be maddening.
What rose to the top about these boots are the way they felt and breathed. The leather seemed to mold to my feet while there was a decent breathability to the boots. They didn't feel stuffy or hot. Another plus was the boot didn't take on an unpleasant aroma, it just kind of smelled like leather. Noses know how important that can be, especially at the end of the day when both boots and beer caps come off.
That's comforting too.
Images by Marty Basch