[starreviewmulti id="2" tpl="20" style="nethub"]
Trusted Review™ Scorecard
Average Score: 4.0 out of 5.0
Each product or service is rated on Quality, Reliability, Price/Value, and Referability. Each area has an individual score, and creates an overall Trusted Review™.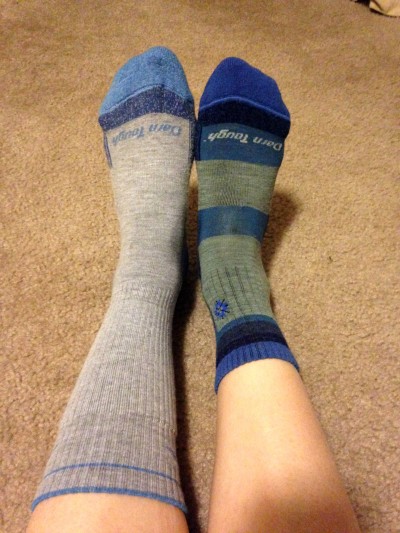 Hiking season is upon us and I could not be more excited to get my gear out and put some new products to the test. I decided to start with one of the simplest, but also an essential hiking staple: socks. Avid hikers will echo my sentiment that aching feet can ruin a hike. The best way to keep your feet comfortable during those long trips is to provide them with proper padding. This does not mean too much padding. If you are taking a short hike in warm weather, an over-padded sock is just as bad an an under-padded one.
Darn Tough offers a variety of weights and protection when it comes to its socks. This year, two new pairs—the Coolmax Boot Sock and the Light Hiker Aztec Micro Crew—were added to my traveling gear.
The Coolmax Boot Sock was the heavier of the two. Best for daylong excursions, these socks offer extra padding around the toe and the heel. I was impressed by how snugly the sock molded to my foot, staying in place no matter what rocks I climbed. I was equally impressed that, thanks to the Coolmax technology, my feet never overheated, which is a problem I tend to encounter because I like to tie my boots extremely tight. Instead, my feet remained comfortably in place and were blister free after the day was done.
The longer neck of the sock was ideal for guarding my ankles and lower legs from the numerous unknown plants that littered the trail. The medium padding was the main reason I was able to avoid blisters around my ankles.
Out of curiosity, I also tested these socks while skiing. The Coolmax technology that kept my feet cool while hiking was not as desirable in colder conditions. Since these socks are meant to breathe, the cold air quickly penetrated them, offering little protection from the winter elements. But, with spring finally upon us in Michigan, I will be using this pair frequently this season.
MSRP: $21
The Light Hiker Aztec Micro Crew Sock immediately caught my eye because of its unique color-block design. Not only is it a hiker's fashion statement, this pair was unbelievably comfortable. Without seams to dig into my foot, and providing the same tight fit as the boot sock, this is a great summer sock choice. A little extra padding under the soles of my feel provided support for my arches, but most of the sock stayed true to the lightweight design. This sock is also great for everyday use and, because of breathability, could easily be used by runners.
A superior feature this model offers is that it's naturally antimicrobial. This means it repels bacteria and odor, making it a great choice for those who sweat a lot or are prone to warts and other unmentionable foot fungi. If you are planning a long, rough trip, this feature will also ensure your feet stay dry and clean after multiple uses.
MSRP: $19
Image by Lauren Montemurri