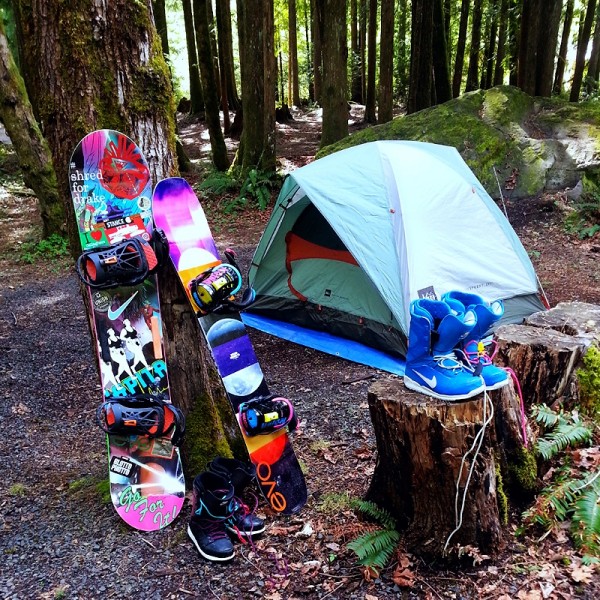 The average person might be surprised to learn that athletic shoe giant Nike has broken into the snowboard scene and started producing boots and outerwear. For the past five years, the company has been cranking out some of the finest snowboarding gear on the market. With access to decades of footwear R&D, Nike is slowly bringing some of their patented and innovative technology to the snowboard world. The Nike Zoom Kajiu Snowboarding Boot is a perfect example of their innovative and forward thinking. From the sole up, this fine boot brings characteristics from many different Nike departments together for a better snowboarding experience.
From Nike's running department, the Nike Kaiju features a Free-inspired sole. Designed for barefoot running, the Free sole features less constriction and a greater range of movement. This allows for supreme board feel and control, while the full Phylon midsole and Zoom Air heel serve up a fully-cushioned ride. The Free sole offers the perfect balance of control and comfort for riders anywhere on the mountain.
When the frigid temperatures of winter start to set in, don't fret over cold feet—the Kaiju has a Warming Blanket Strobel liner. Think of that foil emergency blanket you keep in the back of your car. Now picture it wrapped around your feet. Low-profile and super warm, the Strobel liner works by reflecting body heat back into the boot to keep the frostbite out.
The external TPU backstay is the backbone of this killer boot. It has a minimal footprint, meaning less toe and heel drag. It's perfect for that 10- or 11-sized-foot rider who doesn't want to bump up to a wide board. The backstay also provides a high rebound after flexing the boot forward. Think about when you flex into your boots—do they feel like they want to bounce back, or do they feel like lifeless mush? I find that the TPU backstay provides the perfect amount of flex and rebound, and it has kept its bounce after more than 100 days on snow. This can't even compare to previous boots I have worn that lost their spunk after 70 days.
The Zoom Kajiu sports Flywire—normally used in Nike's football products—in the articulating cuff. Flywire uses Vectran fibers embedded into the material of the cuff. These fibers are lightweight, flexible, and high in tensile strength. This means that the boot will fully support your foot without the drawback of a bulky ankle.
Crossing over from Nike's basketball division, the Kaiju uses a perforated cuff for increased blood flow to keep your feet warm and comfortable after a long day of shred.
In addition to all those features, Nike Snowboarding incorporated classic retro colorways from some of their most historic and iconic sneakers in the design of the Kaiju. This is totally a bonus for the sneakerheads out there—like me.
My experience with the Nike Zoom Kaiju Snowboarding Boot has been stellar. With over 150 days on snow with my current pair, I find the Kaiju to be my most reliable boot day in, day out. It is clear that the external TPU backstay and Flywire internal webbing keep that fresh-boot feeling and response, even after endless days of abuse. Also, as someone who really depends on their gear through rough conditions in the backcountry, I am more than pleased with Nike's traditional lacing system. The simple lacing system easily allows one to customize the fit between the lower and upper sections of the boot.
I do find the fit of the Nike Kaiju to be a little on the narrow side. With that said, people who have had issues with sloppy boots should check out the Kaiju. With great heel hold and a neoprene toe box, this boot will keep you locked in while still giving your forefoot enough comfort and response for some heavy riding.
Coming in at $350, the Kaiju are a great choice for the experienced all-mountain rider. With the perfect flex and great support, I plan on riding these boots for years to come. I already have a brand-new pair waiting for me once my current ones die. I can't wait to kick off the season with them.
European big mountain freestyler Gigi Ruf and Nicolas Muller back the Nike Zoom Kaiju, and you should, too! Check out their parts in Nike's first snowboard movie, Never Not, a teaser for which is embedded below.
Images by Stewart Langner