[starreviewmulti id="2" tpl="20" style="nethub"]
Trusted Review™ Scorecard
Average Score: 4.8 out of 5.0
Each product or service is rated on Quality, Reliability, Price/Value, and Referability. Each area has an individual score, and creates an overall Trusted Review™.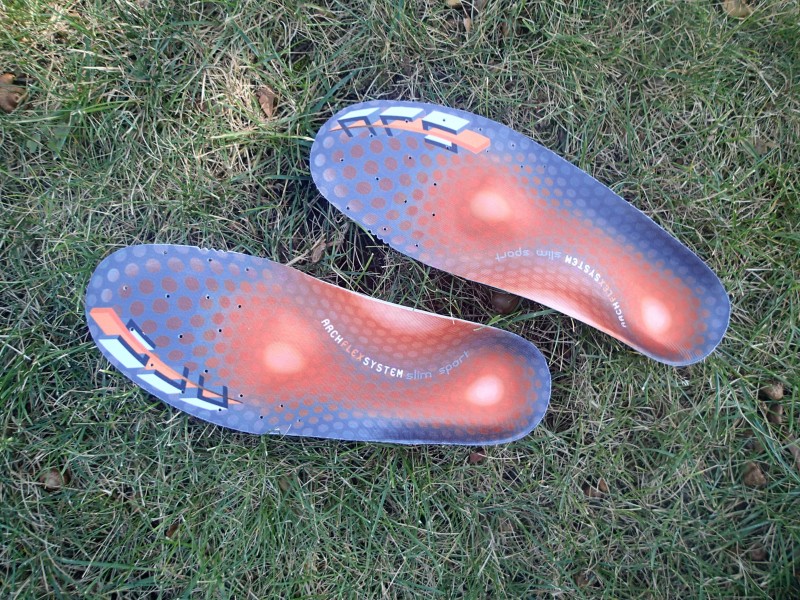 Sporting the tagline "for the love of the foot," the recently debuted ArchFlex System insoles work with the three arches of the foot to increase balance and function. Created by Ortolab AB, which is a well-known Scandinavian orthopedics lab, the insoles are sold by Icebug Footwear.
I first learned about the insoles at last month's Outdoor Retailer Summer Market in Salt Lake City, Utah, where Icebug was not only exhibiting its new shoes, but promoting the use of the insoles with current products.
"We are happy to partner with Ortolab to be able to bring this level of technology to the North American marketplace, and to offer them alongside our Icebug footwear," said Evan Wert, North American Director of Sales and Marketing for Icebug, in a news release. "They're designed to work seamlessly with any footwear, from trail runners to soccer cleats to dress shoes."
I have fairly high arches and wear insoles often, so I recently tested out the ArchFlex System and analyzed the comfort and function they provide during a variety of activities. Typically, I tend to favor a softer insole because to many people, that represents comfort. After feeling how hard this version was, I was suspicious about how well they would actually work.
Based on my feet, I was recommended a pair of the ArchFlex System Slim Sports with a medium arch. For the first test, I placed the insoles inside my gym shoes, and planned to test them out during an hour of cardio as well as during my daily errands.
Much to my surprise, once they were in my shoes, the insoles did not feel as rock-hard as I had imagined they would. However, they were definitely not what I would call "comfortable" to begin with, but this was something the company mentions in several areas on the website. They took some getting used to, especially the support near the front of the foot. I would suggest wearing them around for a while before making a judgment.
After about 20 minutes running on a treadmill, I didn't seem to notice them. Normally, I end my session with sore feet, but I realized later that the rest of my workout was a breeze because I wasn't constantly thinking that I needed to get off my feet. The initial discomfort was worth the result. I had the same experience wearing the insoles during a half-day of hiking, and once again, they took some time to adjust to. Above all, these were the only insoles I have ever used that had more of a detailed focus on the arches in your feet and how to keep them comfortable over time while still functioning well, rather than simply a traditional thin gel pad.
"Soft materials with high cushioning ability absorb the first impact and give a nice feeling towards the foot," the description of the ArchFlex System states. "The dynamic support helps the arches not to collapse, which gives a sensation of 'life' to the foot and prevents injuries."
The ArchFlex System is available in both a Premier version and a Slim version. The Premier is the original insole that has five millimeters of cushioning as well as 360-degree support that allows the foot to move naturally. It also includes a Poliyou foam layer that gives additional comfort and shock absorption. The Slim is the newest version and has two millimeters of cushioning as well as the 360-degree support. It is meant for those with an active lifestyle, such as runners, but is also great for day-to-day use.
The shoes are available in the U.S. and Canada at specialty stores, which can be found online.
Images by Ariel Black