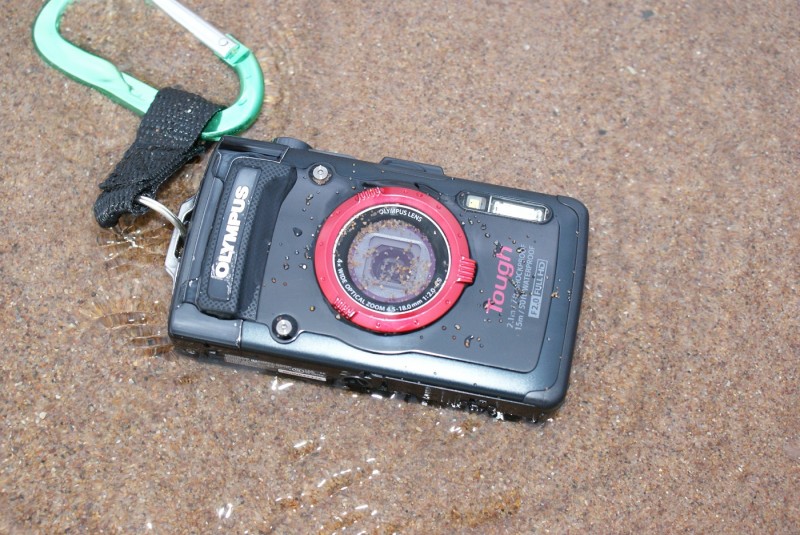 Life at the waterline is where it's happening. Whether I'm in a canoe, kayak, stand up paddleboard, sailboat, or just snooping for trout under the banks, the chances of getting a camera wet in my world are high.
I wouldn't think of buying a point-and-shoot that wasn't waterproof. And I've had my share. My quest for a waterproof camera began with a bulky plastic housing that I inherited from my fly fishing Uncle Bill 30 years ago. I configured a way to fit my old Canon AE1 in the mini-aquarium and tried to focus. It was a pitiful attempt.
Then came the cheap one-use plastic cameras. Just getting a shot below the water line was a novelty and no more worries about dropping your camera in the drink. They saved my dad, Fred Waara, another fly fishing legend, many times. On the opening day of trout season my mom would buy him a summer supply, trying to curb the extended warranty costs he was famous for purchasing to protect his still and video gear. But my Pa was a fussy shooter and never satisfied with the photo quality.
How I wish he was still around to review this new Olympus Tough TG-2 iHS Digital Camera.
In addition to "waterproof," I'm a magnet to the word "tough," particularly when it's capitalized. Add to that "freezeproof" and you've piqued my buying signals.
My first freezeproof point-and-shoot was the Nikon COOLPIX AW100. I bought it at the start of ski season 2012 and it has been a faithful outdoor adventure companion ever since. At the start of the season I depended on it to capture my water shots, that is until the arrival of the Olympus TG-2.
Here's my comparison.
Today, the Nikon costs on average $100 less than the newer Olympus, but there are a few features in the Olympus that make it worth the additional expense.
The biggest difference appearance-wise with similar cameras is the lens. The Tough's much larger high-speed f2.0 4x wide-angle zoom lens is the equivalent to a 25 to 100 mm lens. You can add conversion lenses like a 19 mm fisheye and a 1.7x teleconverter, too. If you need to move faster and lighter and are considering replacing your digital SLR, this camera should be on your trial list.
On the negative side, when shooting in a wet environment, more glass means more to fog or get watermarked. Specs say the Olympus has a protective coating but I did notice some fog in my shots when I was too caught up in documenting a feisty game of kayak Marco Polo to stop and wipe the lens.
The Olympus' battery life is guesstimated at 320 shots. Excellent. So far, I've not had a chance to test the battery life below freezing–rated to 14 degrees Fahrenheit–but if you slip this camera into a breast pocket during snow season, I'm sure it will stand up to the task of recording a winter ski, campout, or ice climb.
I'm embarrassed to admit my battery challenge with this camera, but I will share it as a forewarning to others. When charging the battery in the camera with the provided plug, I first took out the battery just to see if it was a type that I already own. No, the LI-90B was not in my inventory of extra camera batteries. When I re-inserted it, I swapped sides on the charging teeth. It wasn't seated properly. I wasted precious recharge time with the battery not connected. I didn't realize that the orange light on top should illuminate at the start of the charge and not display when the battery is full. Nikon prevents that mix up. Lesson learned: I read the manual.
And on the subject of battery and SD card slots, I prefer the Nikon twist-to- lock system over the double slider used by Olympus. The doors on Olympus's double slider are not easy to move with a fingernail and I'm suspect of how easy they will be to open when fingers are cold. They do seem secure and sand/water tight.
The Olympus is slightly larger than the Nikon but not by a noticeable difference. Certainly it's not as bulky as the turquoise Canon Powershot D-10. But one feature I like about the Canon is how you can remount the carrying strap with a twist of the connector to accommodate right/left or top/bottom positioning. Not a big deal, but handy when you tether a camera to your personal flotation device and need to be "quick-draw" ready. In fact on both the Olympus and Nikon I've replaced the stock strap with a metal key ring and carabiner.
On the water, the photos produced by the TG-2 are fabulous. Glare, sun, and rocking boats can work against you but this camera makes it easy. Video mode works very well too. My only complaint is that when shooting quick shots in succession it felt slow to rebound. That, again, is probably just an internal adjustment and getting to know the camera better. Run-and-gun shooting is easier, too. No need to keep a log of where the shots were taken. GPS information gets stored with the image.
I've never been one to take advantage of a camera's artsy filters; I'm more in the mindset to capture the shot and let Photoshop make the changes in post. But on the Magic setting of the options wheel, this Olympus' 11 Creative Art Filters–Watercolor, Fisheye and Dramatic in particular–can put new zip in your shoot. Cool toys.
Bottom line, this Olympus Tough can be ready to go right out of the box. But if you are the type to study the manual and explore the options, you won't be disappointed. A minute to learn, a lifetime to master. I'm glad it's now part of my gear.
Images by Frida Waara