[starreviewmulti id="2" tpl="20" style="nethub"]
Trusted Review™ Scorecard
Average Score: 4.5 out of 5.0
Each product or service is rated on Quality, Reliability, Price/Value, and Referability. Each area has an individual score, and creates an overall Trusted Review™.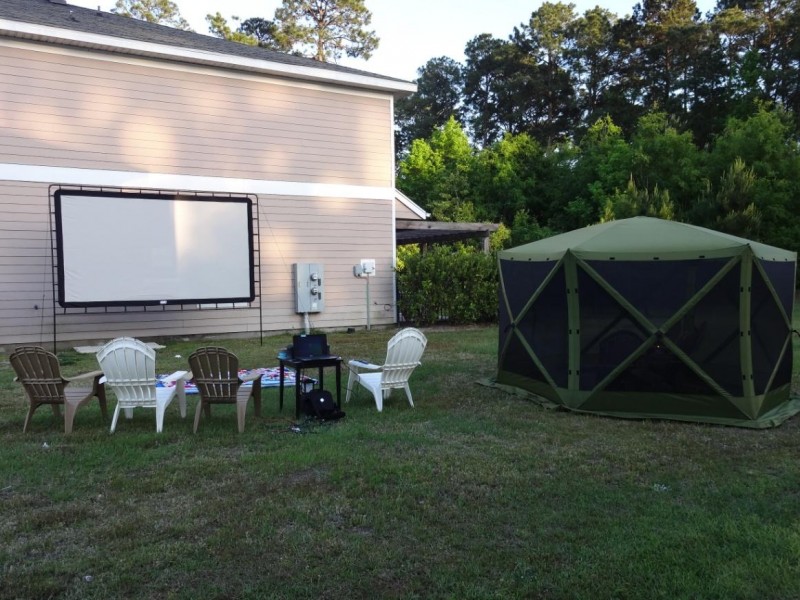 As a big fan of all the outdoor cooking products from Camp Chef, I was excited when asked to review one of their new products for this season: the Outdoor Big Screen 144. There are a number of great applications for this type of large-format outdoor viewing, so I was ready, willing, and able to schedule the review. We just had to schedule it in Savannah, Georgia where the weather would cooperate for Outdoor Movie Night.
The Camp Chef Outdoor Big Screen 144 was a huge hit.
"Set up and tear down was really easy," shared Justine. "The pieces are labeled 'A' or 'B' and you just put 'A' with 'A' and 'B' with 'B'—it's that easy." One person put all the pieces together on the ground easily, but needed help to set it upright. Part of the fun of this product is how big the screen is (it is huge!) but that also means it is too big to set up or move alone.
You'll need two people to get it all together. Set up was super fast. It took only five minutes to set up lying flat and less than 10 minutes all together to have it upright in place and staked down.
"It is a really huge screen," added one of the neighbors. "Kind of feels like a drive-in movie."
The screen is a ginormous 144 inches (12 feet diagonal).
It comes with tie-downs and you really need them. Best use is in a protected area. It is so big the wind will really move it if not tethered securely.
Images courtesy K.J. Houtman