[starreviewmulti id="2" tpl="20" style="nethub"]
Trusted Review™ Scorecard
Average Score: 3.3 out of 5.0
Each product or service is rated on Quality, Reliability, Price/Value, and Referability. Each area has an individual score, and creates an overall Trusted Review™.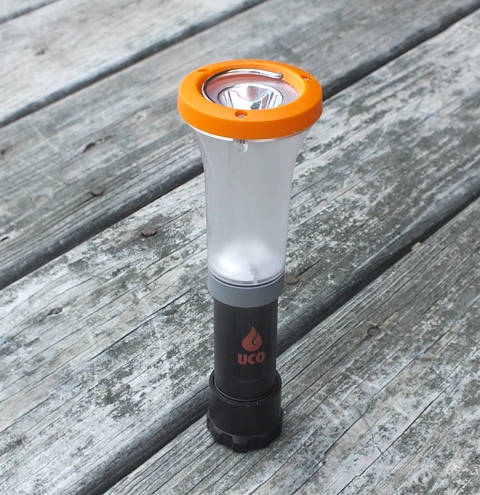 I call it my everything bag. It contains my primary camera, a pair of Steiner binoculars, a hand-held GPS, extra batteries in C, AA, and AAA, a dog leash, a pair of cheap two-way radios, medicine, lighters, glasses, lens cleaner, cigars, etc, etc, etc. This bag goes in the vehicle I'm driving because you simply never know when you'll need something. Of course, it also contains a flashlight.
I'm the first to admit I'm a sucker for flashlights, but the versatile UCO Clarus LED Lantern is more than a flashlight. It can be used as either a lantern or a flashlight, depending on your needs and it makes a pretty darn good one at that. It's tough and it's water resistant. There are three intensity settings with the highest an impressive 150 lumens.
What makes it so impressive, though is the lantern feature. The outer barrel slides telescopes out and the backside of the flashlight reflector bowl becomes the reflector bowl in the lantern mode. As a flashlight, it is slightly larger than you'd expect, but as a lantern, it puts out an impressive amount of light in a tiny package.
This is the perfect light for emergency use or as a personal light on camping trips. My wife Cherie and I have used it on two cross-country trips that mostly involved boondock camping and I used it for every thing from lighting to cook supper when the fuse blew in the camper to negotiating outside the camper on dark nights.
Image by Dick Jones