[starreviewmulti id="2" tpl="20" style="nethub"]
Trusted Review™ Scorecard
Average Score: 4.8 out of 5.0
Each product or service is rated on Quality, Reliability, Price/Value, and Referability. Each area has an individual score, and creates an overall Trusted Review™.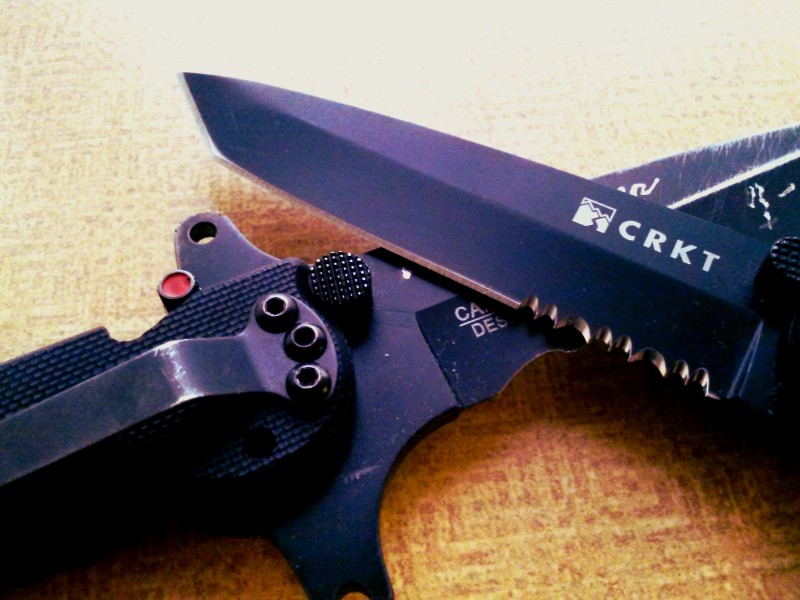 This is a review of two Columbia River Knife and Tool (CRKT) knives: the M16-10KZ and the M16-13SFG (as you can see, CRKT has a love affair with acronyms).
The M16-10KZ is smallish knife meant for every day carry. For the sake of brevity I'll be calling it the KZ for the remainder of the article. The M16-13SFG "Special Forces" knife with the Veff serrations is notably bulkier and meaner. It should be, Kit Carson designed this knife with a multitude of military applications in mind and made it to last under the roughest combat conditions. Its name shall be Sassafras.
Blade:
Both knife blades are constructed of 8Cr14MoV steel with a titanium nitride/EDP finish. 8Cr14MoV (try memorizing that) is essentially a slightly cheaper version of AUS steel, and I haven't noticed much of a difference. They are both middle-of-the-line steels offering good edge retention balanced with durability. Both the KZ and Sassafras come in hollow grinds unless you request differently, and sport tanto tips. See the specifications at the bottom of the page for more details.
Out of the box, the two knives handle very differently. The KZ is slender and thin like a surgeon's scalpel. The blade itself is fairly straight with the exception of the serrations that run just above a third of the way up the cutting edge. The KZ may not be a delicate tool, but it is clearly designed to handle fine work well.
The Sassafras however can be compared to a very sharp and very small bludgeon. This is not the best or most expensive or even a particularly ergonomic knife, but if you want a workhorse folder, Sassafras is your gal. I've fallen in love with the Veff serrations. This knife chews through things like a hot chainsaw through butter. On one occasion I managed to cut through a cord of rigging rope in under four cuts. It's too bad I can't find a version with full length serrations or the Sassafras would make one darn good steak knife.
Handle and Folding Lock:
The standard KZ comes in glass-filled nylon and Sassafras is dressed in a G10 grip. Pretty common for mil-spec knives, these materials will take a beating and still keep chugging. CRKT did include a brand special here: the autoLAWKS. LAWKS is yet another acronym and stands for Lake and Walker Knife Safety System, named after the two men who invented it. It is a rather innovative method of locking the blade in place. For those of us who are a little more paranoid than is healthy, rest assured that once the lock is engaged, the knife will not close short of tremendous force. The design works in conjunction with a linerlock. After the blade is deployed a small tab is inserted between the lockbar and handle, not allowing the blade to fold. A switch is used to disengage the safety tab and then the knife can be closed normally. It does take an extra half second to close, but I don't find it all that tedious. Think of all the half seconds you'll miss out on without your right index finger.
Sassafras also comes with two thumb struts, making it a rare example of a folding knife with a true hilt. This is designed mainly to increase its usefulness in self-defense.
Practicality:
These aren't 17-inch machetes or bowie knives that make you look like Crocodile Dundee's stunt double. You won't need military webbing or batman's utility belt to carry these either. The M16 series are working folders that perform all tasks adequately, but keep in mind they are meant for self defense.
The KZ makes a great pocket knife. It's light, small and sharp. I do find the blade a bit stiff when flicking it out to engage, but loosening the pivot is an easy fix.
The Sassafras however should not be carried tip-up in a pant pocket unless you want holes everywhere. I usually carry it like this.
A note: I got the Sassafras from a soldier in the 1st Calvary where it had spent some time overseas. It's comforting to know that someone whose life depends on their gear once depended on this knife. If you look closely you can make out his unit designation on the blade.
Specifications:
M16-10KZ
Full Length 7.125 inches
Closed Length 4 inches
Weight 2.3 ounces
Blade Length 3 inches
Thickness 0.08 inches
Material 8Cr15MoV
Blade-HRC 58-59
Finish EDP
Grind Hollow
Style Tanto
Edge Triple-Point Serrations
Handle: Material Glass Filled Nylon
Liner 2CR13
Lock Type: Locking Liner
Safety System AutoLAWKS
Carry System 1 Position Clip
M16-13SFG
Open Overall Length 8.25 inches
Closed Length 4.75 inches
Weight 4 ounces
Blade Length 3.5 inches
Thickness 0.1 inches
Material 8Cr14MoV
Blade-HRC 58-59
Finish Titanium Nitride
Grind Hollow
Style Tanto
Veff Serrations
Handle Material: G10
Liner 2CR13
Lock Type: Locking Liner
Safety System AutoLAWKS
Carry System 4 Position Clip
Images by Daniel Xu