[starreviewmulti id="2" tpl="20" style="nethub"]
Trusted Review™ Scorecard
Average Score: 5.0 out of 5.0
Each product or service is rated on Quality, Reliability, Price/Value, and Referability. Each area has an individual score, and creates an overall Trusted Review™.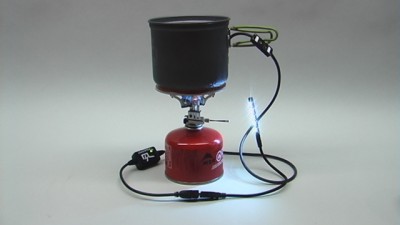 The Power Pot V is a remarkable blending of technology and function.  Without too much introduction, the Power Pot boils water and while you are heating water for a cup of tea or food preparation you can produce 5 volts at 1 amp with a 5 watt maximum power output.  You have to see it to believe it, and I can tell you I have absolutely amazed my buddies in the duck blind as I charge their cell phones while heating water for hot coffee.  Measuring just eight inches tall and 5.5 inches wide the Power Pot will pack into just any pack.
At about one pound and four ounces without the fuel cell canister and just over two pounds with the fuel this is a must have item for just about anyone that spends time in the great outdoors.  In about 25 minutes I was able to charge a completely dead iPhone to a useable level.  I used ice cubes for my tests as the change from cold to hot produces more power than having the pot at a full boil.  As an example, I was able to charge my iPhone from a 44% charge to a 67% charge while converting ice cubes to boiling water in about 14 to 15 minutes at close to sea level.  At a full boil in another ten minutes I added 20% more charge.
The Power Pot comes with a one quart boiling pot and lid, a three-foot fiberglass/silicon high temperature shield over Teflon coated wires, voltage regulator, high temperature connector and a flexible free-standing LED light that is powered by the pot, every possible plug necessary to connect to your electronic device and a small stove for $149.  The pot can withstand temperatures of 600 degrees so there is no problem using it on an open flame or stove.  The solid state regulator has an LED to indicate operation and with little temperature build up (110 degrees) the regulator provided a constant voltage up to a maximum current of 1 amp.
My impression of the process was the hook-up is fool-proof and there is plenty of cable to keep the wires away from the heat.  The Power Pot has wonderfully large handles that are double riveted and coated for heat protection.  When a boil starts it will be at the rivets through the bottom of the boil pot, but a rolling boil will soon follow.  Note a full boil is not necessary to produce power.  Power begins in just a few seconds and maximum power will be available in about 60 seconds.
The possibilities for using the Power Pot are endless especially with more and more electronics using the 5 watt charge. I charged a flip camera, iPod. IPad, cell phones, GoPro camera and my GPS to test as I believe all could be within the packing list for backcountry trips.  Several very small stove models are capable of providing plenty of heat.
Accessories are also available including a lightweight stove ($40) that can be purchased separately, a Lithium 1800 portable charger that has a built in LED light and charging adapter, and the LED light which can also be purchased separately ($9).
Limited Lifetime Warranty
MSRP$149
$1.00 donations are accepted to empower those who live without electricity.