[starreviewmulti id="2" tpl="20" style="nethub"]
Trusted Review™ Scorecard
Average Score: 4.3 out of 5.0
Each product or service is rated on Quality, Reliability, Price/Value, and Referability. Each area has an individual score, and creates an overall Trusted Review™.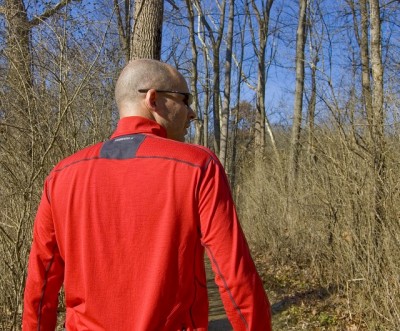 You know you're talking to a serious runner when you ask him if he's been jogging lately and in response you receive a firm stare followed by an explanation that he does not "jog" but "runs."
Yes, we runners are serious about our running—sometimes too serious—and I gladly admit it. In our defense, "jogging" was something we did 30 years ago in un-supportive shoes and heavy clothing. Whether due to the increases in sports science and fitness technology or clever marketing or some combination of both, jogging became running, running shoes improved dramatically, and clothing manufacturers produced "workout gear" more conducive to running.
Some runners still wear cotton T-shirts and sweatshirts but many now wear technical fabrics that are light, reflective, and able to wick away sweat. Interestingly, we've sort of come full circle as the latest in performance fabric technology now offers runners clothing made with merino wool.
You might think merino wool would be better suited to grandpa's favorite cardigan, not to mention scratchy and too hot to wear when running. In the race for the ultimate running or outdoor clothing, however, Icebreaker's Quest, a long-sleeved, half-zip, merino wool shirt, deserves a look as it outperformed every other running shirt I've ever owned.
Specifications
Fabric: 97% merino wool, 3% elastane. Eyelet panels: 99% merino wool, 1% elastane
Care: Machine wash. Dries fast in the shade, but do not tumble dry. Exact instructions on the care label.
Price: $120.00
Image by Mark Kakkuri