[starreviewmulti id="2" tpl="20" style="nethub"]
Trusted Review™ Scorecard
Average Score: 5.0 out of 5.0
Each product or service is rated on Quality, Reliability, Price/Value, and Referability. Each area has an individual score, and creates an overall Trusted Review™.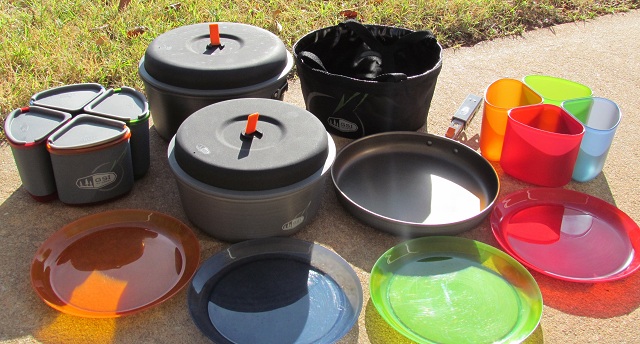 One of the things I like about spending time in the outdoors is being able to try out new recipes on the camp stove. Enjoying a tasty meal at the end of a long day of hiking, canoeing, hunting or any other outdoor adventure is the icing on the cake.
The Pinnacle Camper by GSI Outdoors provided all the tableware and cookware I needed to make and enjoy a fabulous meal in the outdoors, and I didn't even have to think about what to pack. The set includes a three-liter pot, a two-liter pot, two strainer lids, a nine-inch fry pan, four 14 fl. oz. insulated mugs, four 14 fl. oz. bowls, four 7.5" plates, four sip-it tops, a folding pot gripper, and a welded sink that doubles as the stuff sack.
In addition to being a complete and compact set, I found that the cookware was really easy to use. The handy folding pot gripper locked into place easily and proved to be a sturdy handle for cooking. The food I prepared cooked quickly and evenly. The non-stick surface made easy work of frying, but it also made the clean-up a cinch. After the items were cleaned, I found it was quite simple to reassemble the pieces into their original nesting positions.
This set is designed for four-person car camping, but can be reconfigured for two-person backpacking.
Images by Tami McDaniels