[starreviewmulti id="2" tpl="20" style="nethub"]
Trusted Review™ Scorecard
Average Score: 5.0 out of 5.0
Each product or service is rated on Quality, Reliability, Price/Value, and Referability. Each area has an individual score, and creates an overall Trusted Review™.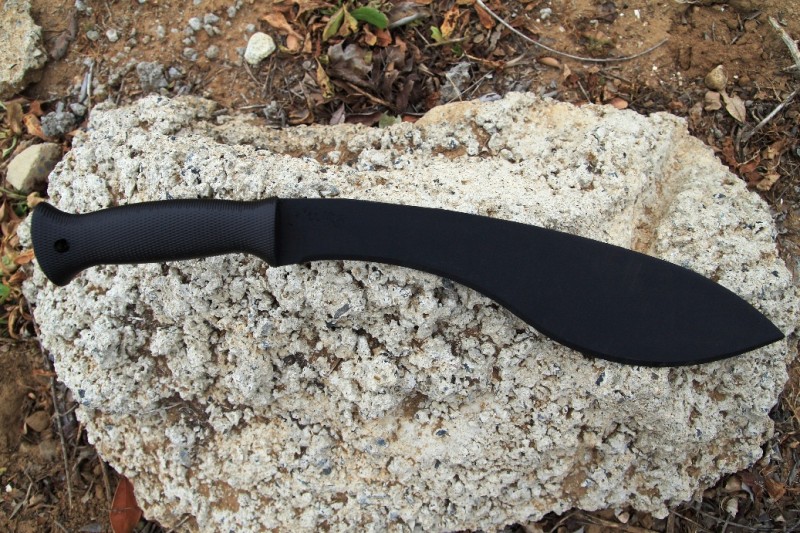 Recently I had the opportunity to spend some time testing out the Cold Steel Kukri Machete. If you are not familiar with the brand Cold Steel, then you owe it to yourself to go on YouTube and check out their awesome product videos. Here is a video of the same type of machete as the one that I am reviewing, just a more expensive model with a thicker and sharper blade right out of the box.
httpv://youtu.be/bwS9bV5X488
As you can see this machete can do some damage to the firewood or brush you will be using it for, but does it hold up as well as it did in the video? I put it to the test in this review.
The first thing you will notice when researching the Kukri Machete is that the PVC handle version that I am reviewing is around 20 dollars. This is a whole lot of machete for only 20 dollars. The edge itself that the blade comes with is pretty dull right out of the box; however, if you want to get it sharper, the blade is really easy to sharpen and holds that sharpness well. Check out the specifications below.
Specifications
18-inch overall length
13-inch blade
2.75-millimeter blade thickness
16-ounce weight
Polypropylene handles
As soon as you pick up the machete you will realize the attention they paid to the weight of the product. It is well weighted for swinging and feels like a lot of attention was paid to the design. The shape itself adds to this as it creates a stylish look for the machete without effecting the functionality. I also like the grip of the machete as it seems grippy enough for normal use when clearing brush on the trail, even though I would always use the safety lanyard if I am going to be swinging it a lot.
The sheath itself is also a great addition and it is nice to see that it comes with it. It is sturdy enough to hold the machete without feeling like it will get cut through, but also light enough that it doesn't effect the products overall weight. Its not a great sheath but it is a great addition to the machete. It has two snaps that keep the blade in place.
One of the additions I thought was a little strange was the fact that this machete is painted black. This is a cool look right out of the box but in sharpening and using the knife to cut firewood it can tend to wear off pretty easily. This doesn't affect the actual machete, but it seems a little strange to me that it would have paint that was easy to remove.
Other then that it is really hard to complain about a 20 dollar machete. It has become an easy addition to my camping tools. It does what it is asked to do and it does it well. After a little sharpening it is hard to see how you wouldn't want to add this to your backpack. Check out more from Cold Steel at OutdoorPros.com.