[starreviewmulti id="2" tpl="20" style="nethub"]
Trusted Review™ Scorecard
Average Score: 5.0 out of 5.0
Each product or service is rated on Quality, Reliability, Price/Value, and Referability. Each area has an individual score, and creates an overall Trusted Review™.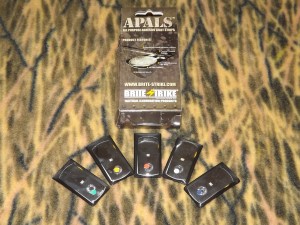 As usual, thanks to Kim Cahalan of Media Direct Creative for giving me the opportunity of reviewing these cool little lights.
When I was in the military, we used chemical glowsticks for everything. We used them to identify vehicles and checkpoints, we used them to read with, we used them for IFF (identification, friend or foe), we used them for aiming devices and survey points. They are so simple and effective, I figured they would be around forever. Enter the APALS (All Purpose Adhesive Light Strips).
Here is the press release:
THE NEW APALS ALL PURPOSE ADHESIVE LIGHT STRIP 10 PACKBY BRITE-STRIKE

HI-TECH REPLACEMENT FOR THE CHEMICAL LIGHT STICK

Plymouth, MA (January 2012) – Brite-Strike Technologies is the established innovator of tactical lighting solutions and tools for police, military and civilian operators. For 2012, Brite-Strike introduces the APALS – All Purpose Adhesive Light Strip 10 PACK. The new unique patent pending crush proof flex-pack developed by Brite-Strike eliminates accidental activation, the biggest problem with chemical light sticks. Developed for our country's elite military units the Flex-pack has been tested and proven to be very effective even in the most stringent conditions. The small and light weight flex-pack has 10 APALS and fits into the pocket of a sleeve or breast pocket. The APALS 10 pack are for the hunters and sportsmen.

APALS, All Purpose Adhesive Light Strips with Active Illumination Reflective Technology, is a micro-thin LED light strip that operates in three modes; fast strobe, slow strobe and steady on. Completely weather proof, the hermetically sealed APALS are intended for use in the worst possible conditions. The APALS were designed by military operators searching for a low cost, ultra reliable, long lasting combat identifier and has been used in both the IR and visible light spectrum version by various law enforcement and military units.

For the hunting market the Green APALS are the hottest trend for trail marking, and range markers. The Blue and Red APALS are extremely valuable for use in night operations without hurting your night vision. The APALS with the easy peel off and stick 3M adhesive have uses limited only by your imagination. Brite-Strike will also introduce a FaceBook promotion so customers can post the way they used their APALS with the heading: WHERE'D YA STICK YOURS?

APALS FEATURES:

CAN BE SEEN FROM UP TO ¼ MILE
RUNTIME: 35 HOURS up to 80 hours
MODES: ON / FAST STROBE / SLOW STROBE/ OFF
HEAVY DUTY COMMERCIAL GRADE 3M ADHESIVE BACK HOLDS TIGHT TO MOST SURFACES WET OR DRY
TACTICAL TOUCH TACTILE SWITCH
HERMETICALLY SEALED LED LIGHT STRIP
WATERPROOF, SHOCK-PROOF, DUSTPROOF
AVAILABLE: WHITE / RED / AMBER / BLUE / GREEN / IR/MAGENTA PINK

MSRP: $44.00 (White Spectrum), $55.00 (IR)

For more information on the new 10 Pack of APALS visit www.brite-strike.com or call 508.746.8701

About Brite-Strike: Brite-Strike Tactical Illumination Products Inc. continues to be a world leader in new innovative tactical lighting products and solutions. All products are developed in house from concept, design, development and then to market. Brite-Strike has patents and patents pending on over 90% of its product line and provides professional training to law enforcement, military and citizens. For more information on Brite-Strike please visit www.brite-strike.com.
So, what do these have to do with hunting, camping or fishing? Seriously? These things have a ton of uses.
Want to find your tree stand the next morning before first light? Maybe you've downed an elk and packing it out will take a few trips, extending into darkness. Maybe you want an easy way to find your tent in a crowded campsite. Maybe you want a little red light to read a map with on a night time activity where light-discipline is important. Maybe you don't want to carry flares in your vehicle. You can see these from 1/4 mile away at night and they have 2 different strobe speeds and a solid light setting. I gave one to a friend at work to try on a camping trip. She stuck it to her black lab's collar so they (and everyone else) could see her at night.
There's going to be a few of these in my pack from now on. I figure if I get lost, or break a leg (hopefully not at the same time), these will make an effective signalling device. They are bright, they can strobe, and the battery lasts well over a day. They are tiny, and take up no room in your pack or pocket. They are less than 5 bucks a piece. One is the size of two postage stamps and less than an 1/8 of an inch thick. The adhesive back is very sticky. For those so inclined, they come in an IR (infrared light) variant as well. It's easy to see why the military loves them.
Images copyright Marshall MacFarlane/The Desert Rat