[starreviewmulti id="2" tpl="20" style="nethub"]
Trusted Review™ Scorecard
Average Score: 2.3 out of 5.0
Each product or service is rated on Quality, Reliability, Price/Value, and Referability. Each area has an individual score, and creates an overall Trusted Review™.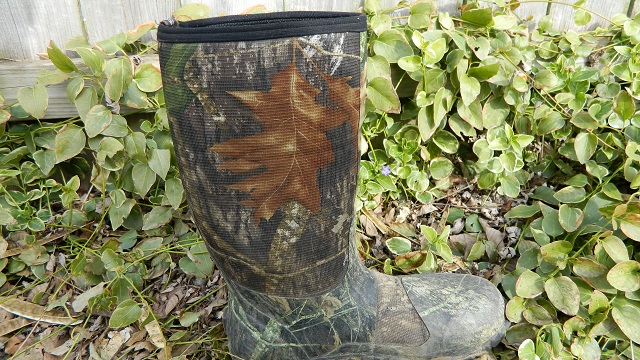 Most hunters will agree that comfortable and reliable boots are a must when you are spending all day in the woods. I am a huge believer in this. Cold feet on the stand can result in a miserable and short sit and when the action is hot in the woods this can be a huge deal breaker. People that have read my previous articles and reviews know that I am a bigger guy, and finding clothes and boots that fit me can be a huge pain.
So as usual I check online for the biggest boots on the market and go from there. I read many reviews and many stories about different boots, and after days of searching I narrowed my choice down to what I thought was the "best boot for the money": the Bogs Men's Classic High Mossy Oak Boot. I placed my order and within three days I had my boots and was ready for the stand. Now most people know when you put on a new pair of boots they are stiff and somewhat uncomfortable, but is to be expected. The size was accurate to what I ordered and the material was exactly what the description stated.
The description said that these boots breathed really well and kept your feet dry at the same time, this was not the case at all. After walking for roughly two hours it felt like water was in my boots, turns out it was sweat from just walking casually through the woods. I was not running or walking quickly. The outside temperature was only 55 degrees and I wasn't sweating from anywhere but my feet. The next trip that I took with these boots was a fly fishing trip to Bennet Springs Park. I waded out to about shin depth and fished for roughly thirty minutes and my feet never got cold or wet. So they held up to the water test and they did keep my feet warm considering I was just standing in the cold water and not moving. The final test I was going to put them through was to see how long they were going to last. I bought these boots in November of last year, I also have only worn them a total of twenty times, and the neoprene has already worn out and ripped which immediately took away the waterproof factor.
All in all I am not pleased with these boots; yes, they are a little bit cheaper than the top end boots. But you also lose a lot of integrity when you purchase them. The boots only lasted a good two months with very light wear on them. The tread on the bottom has started to crack and come off and the neoprene has split and they now leak water. I do not want to sound like I am bashing this product, because I am not, but I am like anyone else in the hunting industry, I expect my gear to hold up in any condition that I may have to put them through and these boots could not hold up to the test. In conclusion I say this, don't be afraid to splurge when it comes to purchasing hunting boots!