[starreviewmulti id="2" tpl="20" style="nethub"]
Trusted Review™ Scorecard
Average Score: 4.8 out of 5.0
Each product or service is rated on Quality, Reliability, Price/Value, and Referability. Each area has an individual score, and creates an overall Trusted Review™.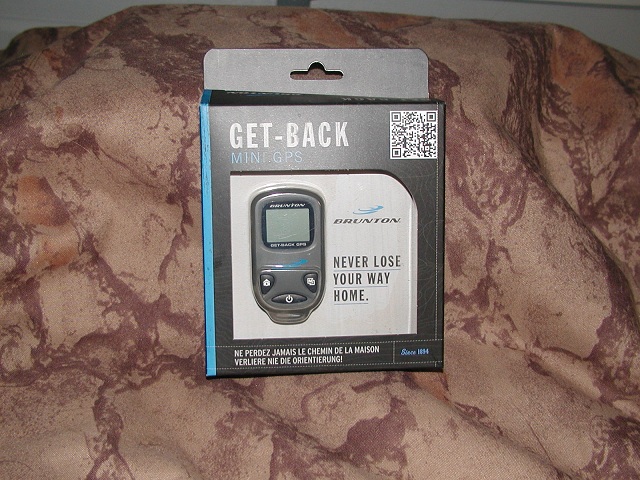 I'd like to thank Kim Cahalan of Media Direct and the folks at Brunton for supplying me one of these units to review. I'm not typically a "GPS Guy" and for the past couple of years have carried around the base model ETrex and used it mostly to mark simple way-points.
You can read the low-down on the Get Back here, but features include:
Overall dimensions: 2.75″x1.5"x0.5″
Accuracy of 12 feet in normal GPS mode
3 waypoints to find your way back to 3 different locations
Arrival notification within 30 feet of destination
Rechargeable battery with up to 13 hours of continuous use
Signal Strength indicator
Brunton SyncTech enabled, recharge internal battery from Brunton power packs or solar panels
Self Calibrating Digital Compass
Blue Back light
Battery Life function
Metric/Standard
Recharges with included USB cable
Small and light weight, only 1.3 ounces
This thing is just slightly bigger than your car alarm key-fob. It stores 3 way-points. It works like a charm!
The unit comes in sturdy packaging. The night before my hunting trip, I pulled it out and read the directions. In one word – simple. I'm no techie geek, but nor am I a neanderthal. These directions were clear, and just enough. One small page, front and back. Best part, I let it charge all night via a convenient USB cable supplied with the unit.
The next day I was off to Arizona's Unit 37B to roam the Sonoran desert for javelina and desert mule deer. For those of you who have never been to Arizona, you might be surprised. When many people think "desert", they think "Sahara". Sure, Arizona deserts can be hot and dry, but in the winter they are lush, green and full of life. It's big, thick, rolling country and can be easy to lose your bearings when navigating.
I parked at my spot, got my gear and bow ready, and then pulled out the Get Back. I turned it on and it locked into its satellites in under 2 minutes, better than my Garmin ETrex. Since it was the first time using the device, I calibrated the compass per the directions, a process which took another 3 or 4 minutes and was pretty simple. I stored my truck as the first way-point, and off I went.
You can use the unit in two modes – compass and navigation, which is pretty cool. It also has a battery life display. After a full night of charging, it indicated 13 hours of use available. The unit goes into a power-save or sleep mode after 5 minutes or so.
In Navigation mode, you can save waypoints (up to 3) or find distance and direction to an existing waypoint. When I finally found a spot where javelina had been feeding, I marked it way-point Number Two. About a half mile away from that shredded prickly pear, I hit javelina paydirt: piles of scat like I had never seen before, plentiful and very fresh. Found some fresh beds too, under some Palo Verde trees. I figured it was only a matter of time before I was slinging arrows at pigs so I set down my pack, jacket and camera; I covered them up and marked way-point Number Three. Then, the creeping mode was on, with only bow and binos.
I snuck around that square mile or so for hours, to no avail! I don't know if I had just missed them, or whether I was pushing them around all day but I never heard, smell or saw a single javelina. I looked at that Get Back a hundred times as I patterned the area, after each leg coming back to my pack safely stashed under a mesquite tree. It's funny, a dozen times I looked at the unit and thought "no way" when it said to go in a direction I didn't believe. Every time I ended up where I was supposed to.
Finally, I was a tired boy, and with a two mile, tough slog back to the truck I decided to head back. I've hunted this area a lot so obviously I knew where my truck was.It was fun though to constantly check the Brunton as I monitored the distance I was covering and noting the direction I thought I should be going, versus the real direction. After a day in the desert and constantly checking the GPS, it showed 10 hours of battery life remaining at the end of the day.
The site shows this device retails for around $96. Listen, if it gets you back when you need it, that is money well-spent. I love this thing. Magnetic compasses can break. More complicated GPS units can be complicated, have issues and often are more expensive than many hunters can afford. Of course, anyone hunting, fishing, hiking or camping should have a compass and know how to read a map. That being said, the Brunton Get Back is handy, affordable, accurate and very easy to use. Two big thumbs up from me, and I won't be afield without it in the future.