[starreviewmulti id="2" tpl="20" style="nethub"]
Trusted Review™ Scorecard
Average Score: 5.0 out of 5.0
Each product or service is rated on Quality, Reliability, Price/Value, and Referability. Each area has an individual score, and creates an overall Trusted Review™.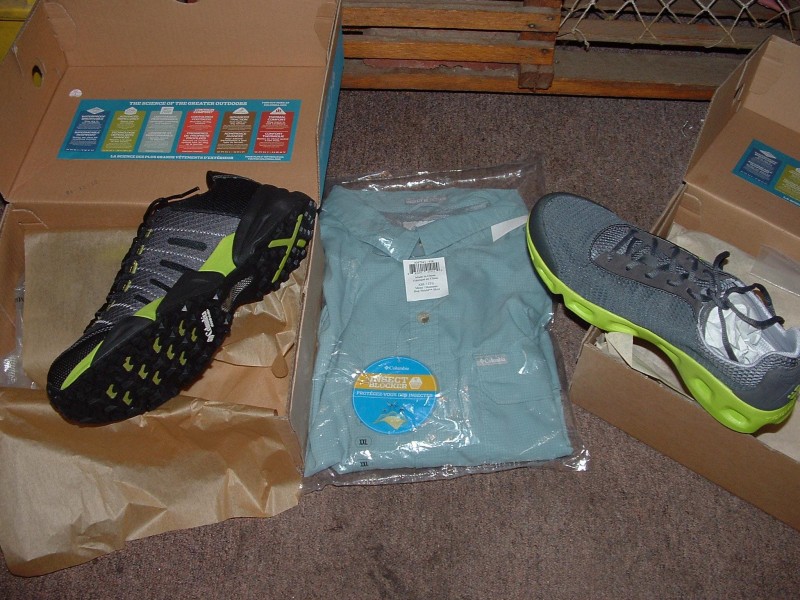 As an active outdoorsman I am often hard pressed to find equipment that will stand up to my active life. As a blogger I am afforded an opportunity from time to time to test out some of the best. Pictured above are three things sent to me from a great name in outdoor gear, Columbia Sports. The Master of Faster (MOF) Sport Shoes on the left. The BUG SHIRT in the middle, and The Drainmaker Water shoes on the right. In this review I will tackle the MOF shoes first, the remaining will be featured one per week over the next two weeks or so.
First off let me explain I am an avid hiker, trail walker and all-around trekker. I have covered more ground on my two feet than a trucker will cover in his truck in a year or more. That's a lot of miles.
One of my greatest joys is and has always been to climb Mount Katahdin here in Maine. If you have not hiked the Appalachian Trail or ascended the trail at Knife Edge, you have not hiked. What better place to test these new "Multi-Sport" Shoes, than to take them to the mountain.
To see this:
You have to hike this:
And to see this:
You need to hike this:
If you think just any shoe can handle that, be prepared for these:
Friction blisters from poorly designed and fitting shoes. Shoes that just can't handle the terrain. These came from wearing a so-called cross-trainer, that just was too flimsy and flexed too much on the rough terrain. That over-flex caused friction between skin and socks, and shoe. Skin lost!
Note: It has been my great pleasure to work with Columbia Sportswear through my affiliation with Outdoor Hub. I have not been financially compensated for my review or my endorsement.
Products have been provided for real life field tests and for fact based reviews. NWW stands behind Columbia Sportswear and this review 100%. We are your trusted source for fair and accurate reviews on the products we use every day.