We all crave battery life and durability in our GPS watches — probably no one more so than ultrarunners or cyclists, who put on a lot of difficult miles far away from charging opportunities. So when a company like Suunto releases a long-lasting GPS sport watch in an efficient package, they catch our attention. This new watch, called the Suunto 9 Peak, is the brand's thinnest, smallest and toughest sport watch to date.
The 9 Peak builds off of the award-winning Suunto 9 Baro. So every key feature the 9 Baro had, the 9 Peak has, too, like intelligent battery modes, wrist heart-rate monitoring, 100-meter water resistance and over 80 sport modes (such as running, hiking, mountain biking and skiing). But the 9 Peak takes all that and more and brings a nice lighter feel to wearing a sport watch — it's 37 percent thinner and 36 percent lighter, plus it includes a minimalistic Nordic design that helps to elevate it above the robustly featured 9 Baro.
Really, you can barely feel the Suunto 9 Peak sports watch on your wrist. The screen measures 43 mm across and is only 10.6 mm in depth. It is the height of Suunto's efficiency efforts.
Probably one of the most groundbreaking features in the 9 Peak is the Snap to Route GPS function. It involves pre-planning a route, and allowing the watch to mark your pace and distance based on your planning — meaning that it "corrects" its GPS calculations, especially where buildings and trees block a signal, by assuming that you went where you intended to go (within its margin of error). DC Rainmaker has a wonderfully detailed explanation of this feature, including all of the perks and drawbacks it offers — we definitely recommend that you read it! This kind of routing feature is somehow both innovative and stunningly obvious and basic at the same time.
Beyond its packing a big punch in a smaller size and the Snap to Route function, upgrades in the 9 Peak include:
Blood oxygen level measurements to help determine acclimation levels at higher altitudes
Automatic backlight intensity adjustment depending on lighting conditions
Faster charging: 100 percent battery in 1 hour
Added watch face that showcases weekly training metrics and inspires new routines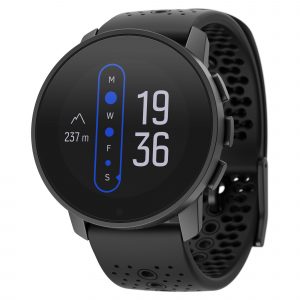 The Suunto 9 Peak comes with either a stainless steel (weighing at 62 g) or a titanium grade 5 (52 g) bezel — the weights are pretty well on par with other brands' multisport watches made with the same materials. It includes sapphire glass with a 240-by-240 display resolution, which is better than other watches on the market under 45 mm in size. The battery life is listed at 14 days in time mode, seven days with tracking/mobile notifications and anywhere from 25 hours to 170 hours in training mode, depending on the specific mode chosen. (A very recent upgrade to the 9 Baro also gives it up to 170 hours of battery.)
The Peak uses global systems GPS, GLONASS, BeiDou, and Galileo, as well as the regional QZSS.
Pre-sale for the Suunto 9 Peak begins today, with the titanium models in granite blue or birch white coming in at $699, and the standard models in moss gray or all black at $569. The watch will be available for purchase on June 17.
The Suunto 9 Peak, which uses the breadcrumb function, pairs with Suunto's own app, allowing users to stay on top of a variety of activities, sports and dives. The Bluetooth 5 in the Suunto 9 Peak does a great job of doubling the sync speed between the watch and the Suunto app.
The app allows for customization of sport modes based on what you use your watch for the most, as well as being able to outline routes ahead of time. Plus, there are some really cool aspects such as activity-specific heatmaps that show you where your the most popular routes are, all around the world.
The Suunto app connects with a variety of other sports services, such as Strava, Adidas Running, UA MapMyRun, Endomondo, TrainingPeaks, Relive, and Sports Tracker.