For the winter 2020-21 season, Beyond Clothing released a premium three-product expeditionary glove line: the Guide Lite Glove, Guide Glove and Trek Glove System. All of these professional-grade gloves are designed to help keep your adventures moving forward, while each individually provides specific advantages to meet the demands that different conditions create.
These gloves continue to highlight the brand's dedication to highly technical products, enabling optimal experiences now matter what environmental challenges are standing between you and an outdoor adventure. And, of course, as with any premium product, there's going to be a premium price tag attached, but the protection they offer are well worth the costs.
Beyond even has its own Bee Balm to treat the leather of these gloves with — a beeswax blended with natural, softening oils including eucalyptus, avocado, lavender and vitamin E that works to nourish, rejuvenate and protect leather.
Here's a quick breakdown of each new glove and how to get your hands on them … or would that be in them?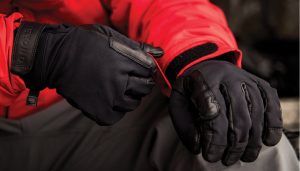 Guide Glove Lite
The Guide Glove Lite combines tough protection and solid range of motion. Articulated leather palms and pre-curved fingers optimize grip, shape, and functionality. Breathable softshell backsides and adjustable wrist guards ensure full flexibility. Softshell backsides and adjustable wrist cuffs provide ease of motion and breathability, ensuring a snug fit throughout adventures.
It's available in Black and Timber colors, and retails for $95. You can buy it here.
---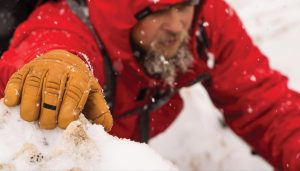 Guide Glove
The Guide Glove is built for durability, warmth and capability. PrimaLoft Gold Insulation with Cross Core Technology fuses time-tested PrimaLoft Gold with Aerogel, to deliver exceptional thermal protection at a light weight. Wool-blend lining rounds out the warmth retention and adds next-to-skin comfort, while pre-curved fingers with e-tips at the index and thumb retain dexterity. Genuine French leather, knuckle guards and suede nose wipes round out the features. Drum-dyed cowbelly leather palms provide lasting durability, tough protection, evenly absorb oils, and easily mold into the optimal shape.
The Guide features heavier leather coverage and more powerful warmth retention than the Lite. It's ideal for winter sports and expeditions.
It's available in Black and Timber colors, and retails for $135. You can buy it here.
---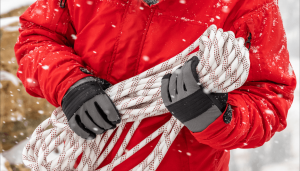 Trek Glove System
This is a two glove system, these adapt to your needs with a modular two-layer approach. The first layer, a lean work glove, keeps your hands protected and nimble for working on a variety of tasks. The second layer, a removable outer shell, features PrimaLoft® Gold Insulation Eco for extra warmth when needed. And with both layers able to pack down into an included stow bag, these gloves are ready for all the weather and tasks that could come up on an adventure.
It's available in Black, and retails for $120. You can buy it here.
Images courtesy of Beyond Clothing