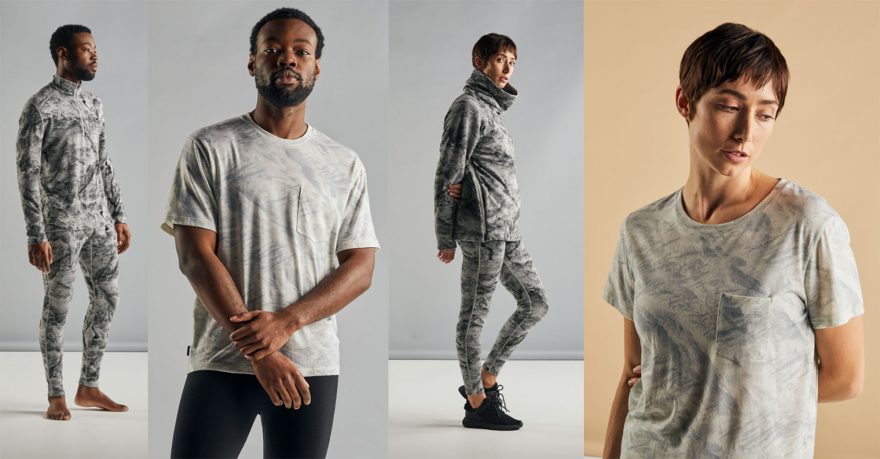 For fall/winter 2020, New Zealand-based apparel brand Icebreaker has teamed up with famed climate-change artist and activist Justin Brice Guariglia for a collection that feeds off of function as much as it does off of style. The effort is part of Icebreaker's celebration of its 25th anniversary in 2020, showcasing its push to develop clothing based on natural fibers as an alternative to plastic-based synthetic apparel.
The icebreaker x JBG collection features 100 percent merino base layers, T-shirts, mid layers and accessories with Guariglia's abstracted artworks. He has used his visually stunning interpretations of the Greenland ice sheet, captured while on a research mission with NASA scientists. The collaboration, which will include 20 pieces, helps to provide a platform for the conversation around climate change and offers consumers design-led natural alternatives. The merino in Icebreaker apparel is annually renewable and biodegradable.
New York-based Guariglia has long been known for his large-scale works that document the Anthropocene, the current geological epoch in which humans are leaving a lasting trace on the planet. The collection has been named "The Age of the Anthropocene."
"I've partnered with Icebreaker to showcase my artworks on their natural apparel as I believe in the philosophy of the brand — advocating kinship with the natural world," Guariglia said.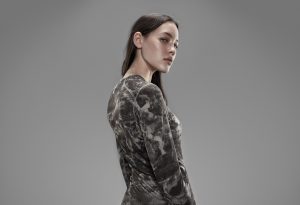 The collection features luxurious merino fibers that breathe naturally and sit softly next to the skin, and dynamic knit fabrics with zoned climate control. The topography of the changing planet is printed on the fabrics to embody the conversation around climate change action.
The merino wool fabric is soft and breathable, and dyed using natural pigments from renewable plant sources, with 80 percent less water wasted than with traditional dyeing methods, according to Icebreaker. The dynamic knit fabrics have a with zoned climate control, perfect versatility for a variety of weather conditions.
The Age of the Anthropocene speaks to the new epoch geologists say humans have moved into, National Geographic explains it as "an unofficial unit of geologic time, used to describe the most recent period in Earth's history when human activity started to have a significant impact on the planet's climate and ecosystems."
Carla Murphy, icebreaker Vice President of Brand & Product said, "The planet and our natural environment cannot withstand the continued impact being caused through over consumption of petrochemical based synthetics and at icebreaker we're passionate about providing the natural alternatives, clothing without compromise on style, function, or the environment. This collection is meaningful, distinctive, and inspired by progressive people and the brilliance of nature"
Icebreaker is sold in more than 5,000 stores in 50 countries through wholesale, Touch Lab retail stores and e-commerce platforms.
Images courtesy of Icebreaker