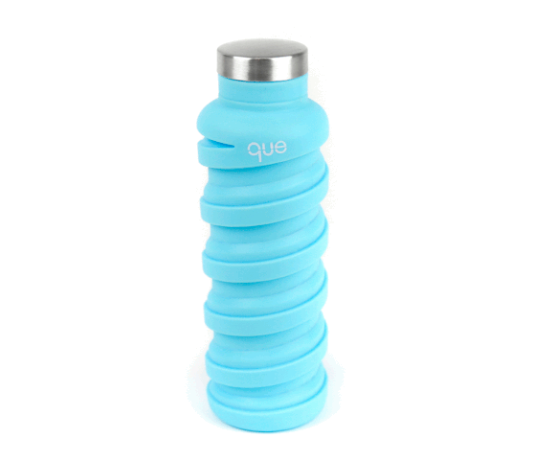 Whether embarking on a weeklong backpacking adventure or packing up the car for an exciting day trip, hydration is key. However, simply drinking water is not enough. It's important to do so in a sustainable and environmentally conscious way. This is why collapsible silicone water bottles are outdoor essentials.
By choosing this type of bottle for your next trip, you can sip from a highly portable product while reducing the demand for single-use plastic. Collapsible Silicone water bottles are available in a variety of sizes, colors, and styles to fit your preferences.
3 Popular Collapsible Silicone Water Bottle Brands
The following products are some of the most popular collapsible water bottles on the market. While there are countless other options, these are examples of the various design options available.
que
For the modern, trendy travelers, que's collapsible water bottle is a must-have. When fully extended, this product has a spiral around the outside. The spiral collapses into a compact cylinder for better portability. Made of food-safe, plastic-free silicone, this bottle is suited for cold and hot liquids. The stainless steel cap stays securely in place and prevents leaks. This 20 oz. water bottle is easy to clean and perfect for daily use.
Bübi
Bübi's water bottle offers ultimate portability and durability, making it an excellent option for daily or travel use. Available in 14, 22, and 35 oz. sizes, you can select a product that perfectly fits your needs. Perhaps its most impressive feature, Bübi's bottles roll up to a fraction of its size. When you're not using it, simply stash it in a small pocket in your pack. Bübi markets their products as completely indestructible, so you can trust this material for hot and cold beverages.
Kemier
The industrial look of Kemier's bottles shows its quality and durability from the start. This 26oz product is made of medical grade silicone and is fitted with a variety of functional features. The bottle collapses into a compact bundle and can be secured with a built-in binding rope. Its leak-proof seal and air valve keep your liquids secure. Its design and handle also make it portable and comfortable to hold.
By purchasing a collapsible water bottle, you can stay hydrated without sacrificing space. Ideal for hiking, sports, and everyday use, these bottles can help lower your environmental impact with every sip.