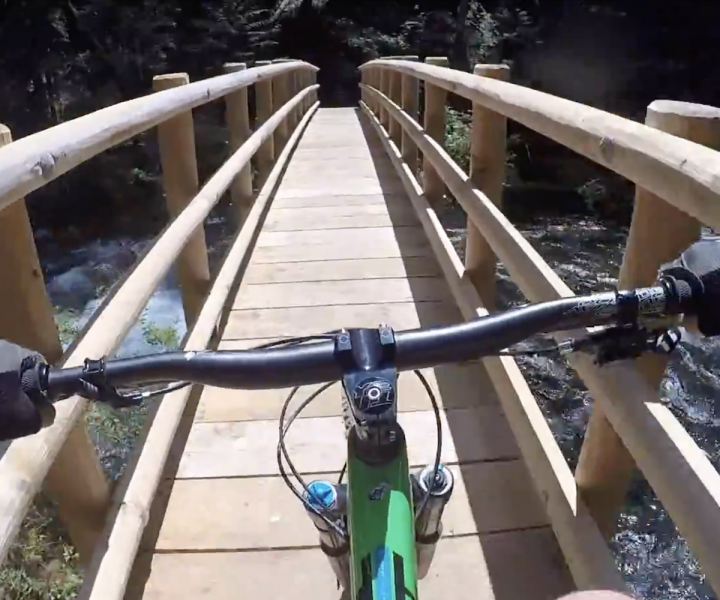 Oregon has hundreds of miles of mountain biking trails, but the best one has got to be the McKenzie River Trail (MRT). It offers a spectacular scenic challenge to cyclists, with lava rock, blue pools, lush 300-year-old growth forests, waterfalls, and technical riding. 
Be warned – this trail is not for beginners. It's a technical trail that's been rated extreme by some, although mainly due to its length, so you'll want to be in top shape if you're going to try tackling it.  
McKenzie River Trail
Riding area: McKenzie River, Eugene, Oregon 
Difficulty: Black Diamond (very difficult) 
Length: 26 miles one-way 
Trail type: 100% Singletrack 
Elevation: 1,000 ft. of climbing / 1,500 ft. of descending 
The MRT is long, mostly downhill, with many flat sections, but also includes steep ups and downs. The most technical part is the upper MRT, but once you're past that bit, it's a fairly smooth ride suitable for intermediate level riders.  
It's a real endurance test, although the trail is easy to get on and off of if 26 miles is a bit too long for your liking. If you do opt to do the full trail, expect it to take at least 4 or 5 hours.   
The first 10 miles, the upper end, are the toughest part of the trail, as it's during this section that you'll travel through lava rock fields. Watch out for the sharp rock; you'll see many riders dismounting multiple times in this area for a reason.    
If you're not comfortable tackling the rock fields, then you can opt to start your ride at one of the several mid-way points. Alternatively, you can stay on the west side of Clear Lake, which offers a much smoother ride.  
The best time to go is in late summer or early fall, ideally on a weekday when it's less crowded. If you go too soon after the winter, you're more likely to encounter puddles and mud from lingering snowmelt, which will make it more difficult for you to go fast. Also, by that point, the river will be low enough so you can get to the trailside hot springs.  
The MRT isn't just well known in Oregon; it's probably one of the most famous mountain bike trails in North America. If you get the chance to visit the area, be sure to head to the McKenzie River Trail; whether you opt to go mountain biking or hiking, it's well worth visiting.