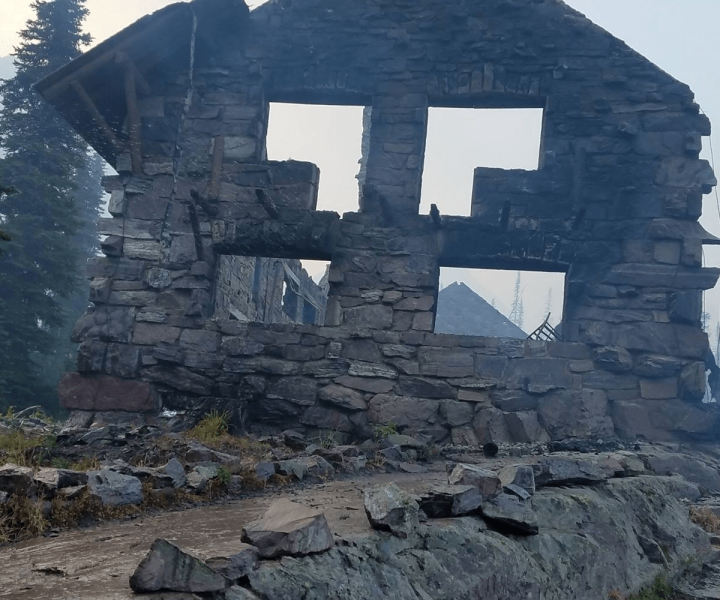 Since last month, Sprague Fire caused by lightning has been devastating the Lake McDonald area of Glacier National Park. The area has been blanketed by a thick smoke, forcing evacuations and closures all around the area, including the Lake McDonald Lodge.
Unfortunately, more than 5,100 acres have now been lost to the fire, including the Sperry Chalet, a national historic landmark built in 1913. On Friday evening, the more-than-a-century-old landmark was engulfed by fire, after high winds caused a run that could not be suppressed by firefighting efforts.
Glacier National Park issued the following statement on their Facebook page: "Glacier National Park is saddened by the loss of the main structure of Sperry Chalet but relieved that firefighters are safe. A highly skilled group of firefighters were assigned to defend the Chalet from the Sprague Fire using an extensive hose lay, sprinkler, and pump system. The hose lay and sprinkler system was tested daily. They also did fuel reduction around the five structures in the area. Protective wrap was applied in exposed wood areas and around the bottom of the buildings with decks as appropriate and safe. Given the remote area, size of the main building, and the stone construction, wrapping it in its entirety was not possible without mechanized equipment. A sprinkler system was installed and working on the Chalet's roof."
The efforts to douse the structure in water, add fireproof wrapping to its perimeter and firefighters fighting side by side to save the backcountry chalet were no match for the might of nature.
An evacuation of some of the parks areas stretching from the south end of Lake McDonald all the way to Logan Pass. All park visitors have been warned to leave the area, and all trails accessed by the Going-to-the-Sun Road from the south end of Lake McDonald to Avalanche, including Trail of the Cedars, will be closed.