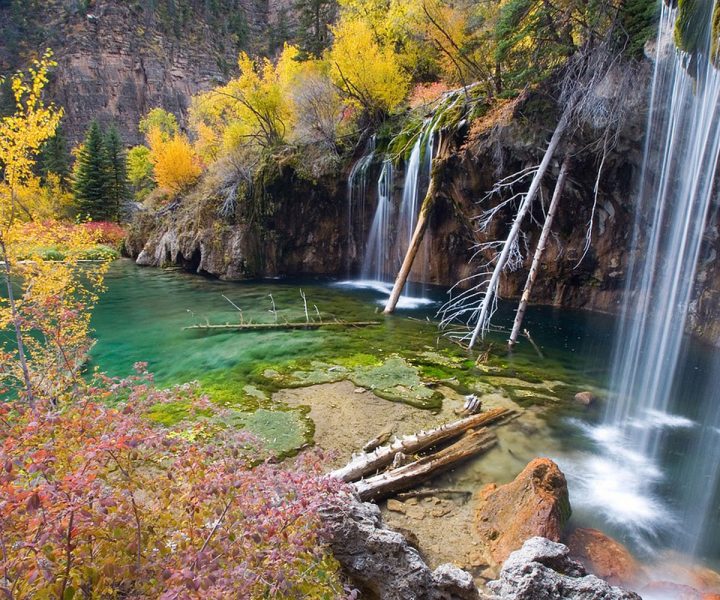 The White River National Forest has proposed a visitor cap, times reservations, shuttles and fees to Hanging Lake, to protect its fragile ecosystem.
Believed by many to be a national treasure, Hanging Lake seems to be a bit too beloved lately, as its remote backcountry lakes and popular national parks have reported a record number of visitors in the past few years. There is now a need to balance those record crowds with duties that will protect the state's natural resources.
In addition to the huge surge in crowds, there have been several social media posts that highlight the complete disregard for the rules by visitors. These regulations were set in place to protect the fragile ecosystem of Hanging Lake. The past years have seen vandalism on the trail, fights over parking spots, dog walking on the trail, and swimming in the lake, even though all these activities are expressly prohibited.
Official figures state that Hanging Lake received 150,000 visitors last year, up from 99,000 in 2014. The park now receives as many as 1,200 visitors per day. The new proposed restrictions, which officials hope to have in place by next spring at the latest, would limit the daily number of visitors to 615, and all visitors would require a permit.
Details about the proposed shuttle arrangements, prices and permits have not been made public, but most likely the shuttle will start and end in Glenwood Springs during peak season. The parking lot would be available to off-season tourists, from November through April.
The proposed plan is said to be adaptive, allowing monitoring and adjusting implementation, ensuring the plan is working. Therefore, the number of visitors allowed could be adapted to allow more or fewer people, depending on the current situation.
The Glenwood Springs Chamber of Commerce believes these new regulations would make it easier for tourists, as it will increase the desirability of visiting Colorado while protecting the environment and its pristine areas. However, there are opponents who believe that fees should not be charged to access public lands, as it would make nature only available to those who can afford it.