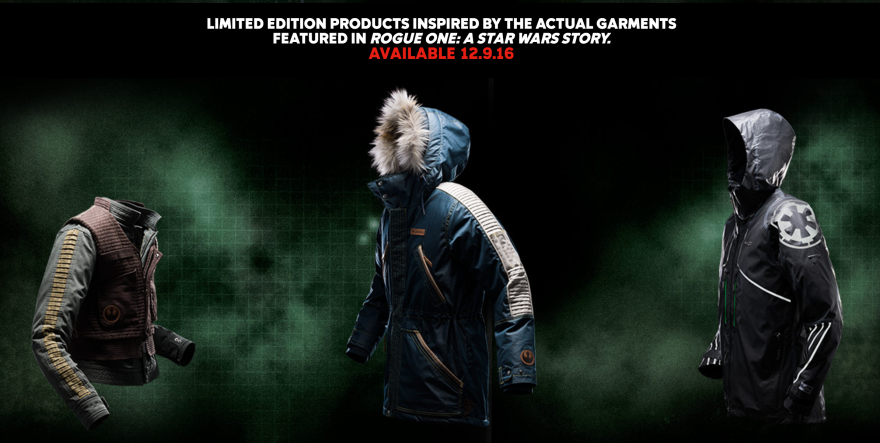 Ahead of the highly anticipated Rogue One: A Star Wars Story, Columbia and Star Wars have released a limited range of jackets, which have been inspired by some of the film's key characters.
The clothing will be available from December 9th, with each jacket in the range having design features relevant to a character in the movie.
The film, serving as a prequel to A New Hope, depicts the story of Rebels who steal the plans for the original Death Star. The jackets produced by Columbia are designed for cold and wet weather needs, making it an ideal Christmas gift for any Star Wars obsessed friends or family members.
JYN ERSO REBEL JACKET – $400

This jacket and vest is inspired by Jyn Erso's costume in the upcoming film. It is made from heavy cotton twill and has leather-like details on the sleeves. The jacket and vest can either be worn together or separately.
CAPTAIN CASSIAN ANDOR REBEL PARKA – $500
This one has been inspired by Captain Cassian Andor and has been built with the harshest conditions in mind. A faux-fur hood and special technology to retain heat, you'll be kept warm in the toughest winters planet Earth can offer.
IMPERIAL DEATHTROOPER RAIN JACKET – $450
A Rebel-inspired rain jacket is worn by the elite squadron in the new film. It is waterproof and breathable, built with award winning waterproof and breathable technology. This makes it the ideal outfit for a wet winter.