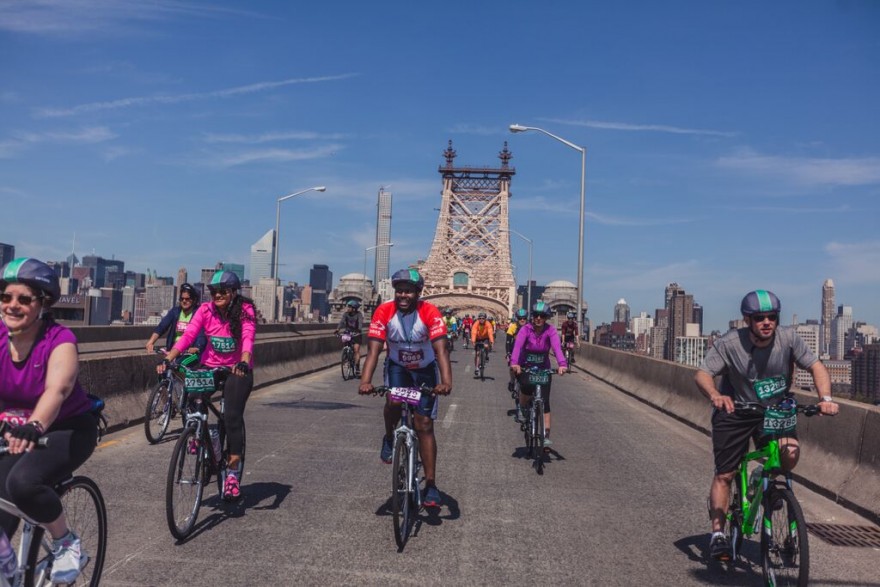 It's a cycling organization for the masses.
Six of the top mass participation bicycling events in the world have come together to form the World Association of Cycling Events designed to promote and increase cycling all over the world.
The events are:
South Africa's Cape Town Tour, the world's largest timed cycling event;
New York's TD Five Boro Bike Tour, the only closed mss participation biking event in the Big Apple with some 32,000 riders;
Vatternrundan in Sweden, one of the oldest and longest mass participation cycling events with more than 3.7 million cumulative miles ridden annually;
L'Etape du Tour in France, a beautiful yet challenging event ridden over a stage of the Tour de France;
RideLondon, a jolly good ride attracting more than 95,000 cyclists to traffic-free roads in London and Surrey
Italy's Granfondo Campagnolo Roma with its incredible start in front of the Colosseum.
With more than 200,000 participants from 90 countries riding in WACE events each year, the new organization is ideally placed to inspire new riders to take up the challenge of cycling and to encourage riders to travel to participate in other world class cycling events.
"It is a very exciting time for cycling with such rapid growth in interest and participation," said Hugh Brasher,president of WACE and event director for RideLondon.  "We expect a number of other major international cycling events to join us to promote the many health and lifestyle benefits of cycling and to work together to promote the opportunity to ride in great cities around the world. WACE events are working with city leaders to get more people cycling to help address the global issues of pollution, overcrowding on public transport and public health."
More major international cycling events are set to join WACE and the association is planning the creation of the "WACE CHALLENGE" with awards to riders who take part in multiple WACE events around the world.
"We want everybody to participate in our events, not just serious riders," said Matteo Gerevini, executive director of WACE. "Our events cover every aspect of cycling, from a ride in a city like New York to an incredibly tough experience in the French Alps."
The 39th Annual TD Five Boro Bike Tour is slated for May 1, 2016 with registration opening in either December or January.
The event has come along way since its 1977 inception when about 250 riders—50 high school students from five schools and 200 bicycle club members—pedaled some 50 miles with police escorts at the front and back of the pack and no roads closed to traffic.
The ride, with no entry fee, started and ended in Queens, headed south to Brooklyn, over the Verrazano-Narrow Bridge to Staten Island, aboard a short ferry hop, up into Manhattan, over to the Bronx and then across the Throgs Neck Bridge to Queens.
There was only one rest stop. In the Bronx Nathan's, the lone sponsor, gave out hots dogs and soda.
Now, about 32,000 riders from 65 countries pedal the tour.
"All of us at Bike New York are thrilled and honored to be a charter member of WACE " said Ken Podziba, President of Bike New York, "a prestigious coalition that includes six other like-minded organizations. We look forward to working with the other members—all of which have put together truly stunning bike rides—to promote cycling as a healthy and sustainable mode of transportation and recreation. The TD Five Boro Bike Tour is a one-of-a-kind event, and it's wonderful that as a result of the international reach of WACE, more cyclists from all over the globe will now get to learn about and discover this iconic New York City experience for themselves."
Registration is already open for the five-event RideLondon, July 30-31 (ridelondon.co.uk).
"Whether it is elite athletes from across the globe, enthusiastic amateurs or families and children who have got into the cycling spirit, it is a wonderful advert for the sport and the city," said mayor Boris Johnson. "The event is rapidly turning into the London Marathon on wheels and I hope it will be a firm fixture in London's sporting calendar for many more years to come."
Included is the RideLondonFreeCycle which takes riders by famous London landmarks from Buckingham Palace to the Houses of Parliament.