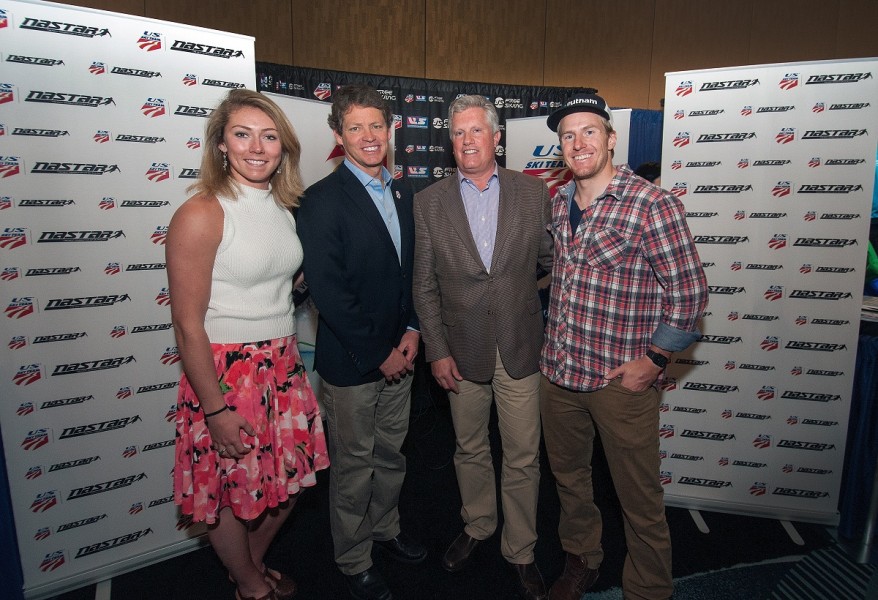 If you're running gates, the US Ski Team will soon have its collective eye on you.
That should be of particular interest to young athletes with gold medal dreams, and aging athletes looking to stay in the game.
The US Ski Team wants to take over NASTAR, an acronym for the National Standard Race.
The largest bare bones public recreational ski race on the planet, more than 165,000 racer days are tallied across 115 resorts all season. Using a handicap system, racers compare their times against those of elite US Ski Team athletes.
The US SKi Team and NASTAR have entered into an agreement where the team manages NASTAR with the idea of raising the profile of ski racing in America.
Keys are to bring greater awareness to the sport and value to the industry while also motivating all ages of skiers to get involved in racing.
"Being able to integrate NASTAR directly into our programs will allow us to better include competitors of all ages, encouraging them to expand their participation in ski racing and connecting them with USSA clubs and racing system nationwide," said US Ski and Snowboard Association president and chief executive officer Shaw in a statement. "It brings together two of the strongest brands in ski racing and will help us to not only engage a new generation of ski racers, but also to have significant impact by extending our brand to new fans and USSA members."
The USSA is the parent organization of the US Ski Team and manages grassroots, development and elite ski racing programs across America.
NASTAR began in 1968 under the wings of SKI Magazine and its editor John Fry.
Last season, its' 47th, Utah's Park City resort led the nation in racer days with Wachusett Mountain in Massachusetts just beating New Hampshire's Cranmore Mountain Resort for second overall.
Wachusett was ranked first in the country based on the number of starts while Colorado's Steamboat held the most races at 157.
The partnership is a vital part of the USSA's efforts to activate more young skiers into the sport across America. It expects its integration with NASTAR to help grow awareness and to serve as a recruiting tool for the USSA's 400-plus local clubs across the country.
In its tenure, NASTAR has introduced millions to ski racing and been a consistent asset for hundreds of resorts nationwide.
"We see great growth potential in NASTAR paired with the US Ski Team brand," said USSA chief marketing officer Michael Jaquet. "It's a natural fit for our team sponsors who want to reach a larger audience including the thousands of families with kids engaged in ski racing."
US Ski Team athletes like World Cup winner Steven Nyman, Olympic champions Ted Ligety and Julia Mancuso, World Champion Daron Rahlves and US champion Kaylin Richardson and others have played a role as NASTAR pacesetters or ambassadors. The team plans to further integrate more athletes into the program, as well as keeping a strong focus on NASTAR's biggest event, the NASTAR National Championships held each March.
"NASTAR is where most ski racers in America, including myself, were introduced to the thrill of going fast and competing on skis, by challenging our friends and family on the course," said Ligety. "NASTAR has always been a gateway to more competitive skiing so the partnership with US Ski Team is an obvious one to help broaden the pathways to become passionate about this awesome sport."
Active Interest Media, with it's industry-leading print titles and genre-defining feature film division, will continue to lead the promotional and marketing efforts for NASTAR in partnership with the US Ski Team. AIM presently owns NASTAR, SKI and Skiing magazines and Warren Miller Entertainment.
"Through our involvement for many years with NASTAR we've seen its potential in getting kids excited about the sport and creating a lifelong, family activity at ski resorts," said AIM president and chief executive officer Andy Clurman. "The transition of program management from Active Interest Media to the US Ski Team will bring benefit to all of us in the industry by associating the two brands together and making NASTAR a more distinct part of the team's athletic pipeline."