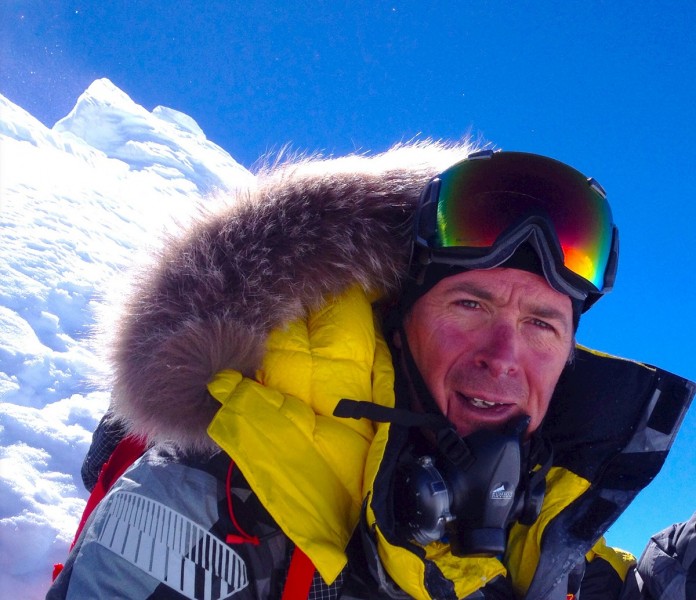 All Nick Cienski wants to do is summit six 26,000 foot mountains in about seven months. In doing so, he would rack up more than 70,000 vertical feet and end up in the record books.
Not only that, he's climbing for a cause.
Plus, he's management at a well-known outdoor apparel company.
Nick Cienski and his international team of mountaineers plan on undertaking the 6 Summits Challenge (6summitschallenge.com). On one level, they'll be climbing six of the world's highest peaks from April through October.  On the other platform, they're raising awareness and funds to fight human trafficking.
Cienski is the senior director of innovation at Under Armour. His team will use apparel Cienski designed featuring base layer, mid layer and outerwear made to withstand extreme weather.
The mission is to climb some of world's highest mountains. That's Everest Lhotse, Makalu and Manaslu in Nepal, and Cho Oyu and Shishapangma in Tibet.
The plan is to begin at Lhotse and move on to Everest and Makalu, climbing that one at the end of May. In the fall, the team is bound for Manaslu, Cho Oyo and Shishapangma.
An experienced mountaineer, he's also founder of a Baltimore, Maryland-based non-profit human trafficking awareness group called Mission 14 (mission14.org) and is employing his climbing background as a way to generate social change in one of the largest illegal industries in the world.
"Climbing mountains is what I know, and raising awareness for human trafficking is what I am called to do," says Cienski who celebrates his 49th birthday this July. "Working at Under Armour with full support from them to develop my own gear and to follow my passion is a unique opportunity for any climber. By summiting these peaks, I am working to empower organizations and inspire individuals to be brave, take action, and think beyond your own limits everyday."
Cienski will attempt to scale more than 70,000 vertical feet, breaking the current world record of five 26,000 foot summits in one year. South Korean mountaineer Park Young-Seok holds the Guinness World Record for climbing five of the 8,000-meter Himalayan peaks within one year.
To train, Cienski hit the gym five times a week, three with a personal trainer. He did a lot of body weight resistance training, band workouts and TRX.
"My focus is mostly on my legs, lower back and core and my trainer uses a variety of workouts to achieve this but these are all incorporated with speed so as to maximize heart rate," he said.
For cardio, he did a lot of stair climbing while carrying an 80-pound pack.
He figures on burning more than 80,000 calories during the total expedition.
Cienski starting high mountain climbing at age 21 in 1987, scaling peaks in the Himalayas and Karakorum. He did that for a good decade before succumbing to a career.
He returned to the Himalayas in 2014 to test gear and get a sense of how his body would acclimate to the elevation and elements.
Logistics leader is world-renowned climber Russell Brice. He's behind the organizational requirements for the challenge. Russell holds the world record for fastest single, solo ascent without oxygen of Cho Oyo and 22,000 foot-plus Ama Dablam. The head Sherpa for the expedition is Phurba Tashi, who has not only summited Mount Everest 21 times, but also holds the record for the most total ascents of the world's 8,000 meter peaks, summiting 35 times, more than anyone in the world.
The plan is for three teams to begin climbing the first three mountains simultaneously fixing ropes and making camp. They will use traditional routes and supplementary oxygen above high camp. Cienski will begin climbing with the Lhotse team and aim to summit it in early May, then descend to camp 2 and join the  Everest climb to summit in mid-May. Then it's on to Makaulu.
In the fall, the same plan will be in place.
They'll use about nine tons of gear, some six tons for the spring climbs and three for fall. Just for the Everest and Lhotse climbs they figure on five tons of equipment.
What are they carrying? The climbing gear is harness, plain carabiners, screw lock carabiners, descender, ascender, tape slings, set prussic loops, ice axe, retractable poles, crampons, helmet, head lamp with spare bulbs and batteries, pocket knife, sunglasses, goggles, water bottle, pee bottle, large 50-60 lbs. pack, 30-35 lbs. day pack, batteries, avalanche transceiver, kit bag, sleeping bag and sleeping mat.
Lhotse is the world's fourth highest mountain at 27,940 feet and a base elevation of 17,500 feet. With a base of 17,700 feet, Everest is the tallest spot on the planet at 29,029 feet. The fifth highest peak is 27,776-foot Makalu with a base elevation at 15,975 feet.
Cho Oyu tops out at 26,906 feet. The sixth tallest mountain has a base elevation of 16,000 feet.  Shishapangma, with a summit at 26,335 feet and 16,400-foot base elevation, is the world's fourteenth highest peak. Manaslu is the eighth highest with a 26,781-foot summit and 15,750-foot base elevation.
Image courtesy Shinji Tamura