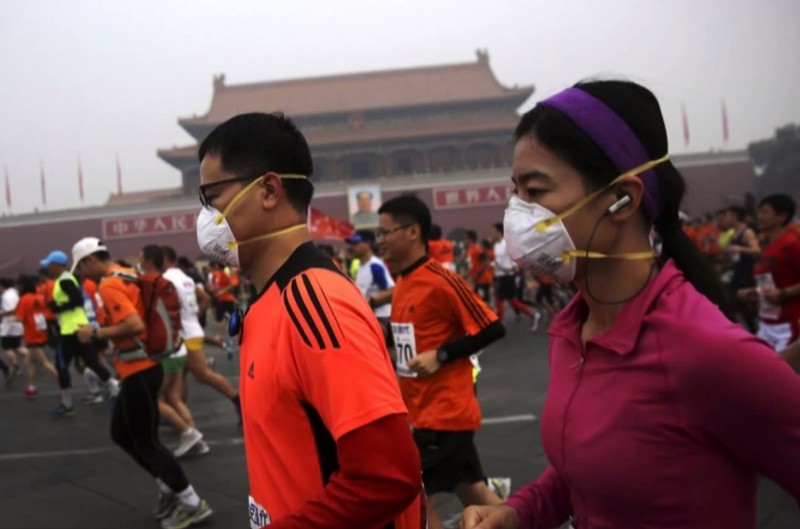 The 34th Beijing Marathon was unlike anything the racing world has ever seen—but not because of the performances of Ethiopian winners Girmay Birhanu Gebru and Fatuma Sado Dergo.
Although their finishing times of 2:10:42 and 2:30:03 were impressive, the focus of Sunday's race was instead on the heavy layer of smog that hung over the 26.2-mile course.
Though organizers were aware of the hazardous conditions prior to race time, they decided not to cancel the event, claiming that too many people had traveled from far away to participate. So the 30,000 registered runners had to decide for themselves whether or not it was worth it to fight the smog. According to local Beijing News reports, the only extra aid organizers provided were sponge stations where runners could "clean their skin that was exposed to the air."
Shockingly, a large number of runners still showed up, donning masks to guard against the grey mist they were running through. Not surprisingly, the number of finishers was at a record low.
"It felt pretty ridiculous given we're meant to be running for health and fitness," British elite runner Chas Pope told CNN after he decided to drop out of the race. "When I looked at the state of the mask after 10 kilometers, I decided enough was enough."
According to Beijing's Air Quality Index, by 10 a.m. the concentration of PM 2.5, or the tiny particles that can penetrate the lungs causing cancer, reached 344 micrograms per cubic meter. That's more than 16 times the maximum limit of 25 micrograms per cubic meter recommended by the World Health Organization. In fact, Beijing's environmental center warned against any outdoor activity and strictly advised all children and the elderly to stay inside.
"Actually, on a normal day, nobody would run in such conditions," participant Liu Zhenyu told the Associated Press, "but the event is happening today, so what can we do?"
China's pollution problem isn't anything new. After years of rapid growth, most of the major cities are blanketed in smog, with PM 2.5 levels reportedly worse in colder months when coal use is prevalent. For reference, the Los Angeles Times reported that LA's PM 2.5 levels normally hover around 18, whereas Chinese cities like Beijing are lucky to stay below 90.
In an effort to combat this, the government has recently declared a "war on pollution," vowing to cut the use of coal in some areas. Still, the scene at Sunday's marathon is just further evidence that the pollution problem is reaching drastic and dangerous levels.
Image courtesy of Breaking News English/YouTube