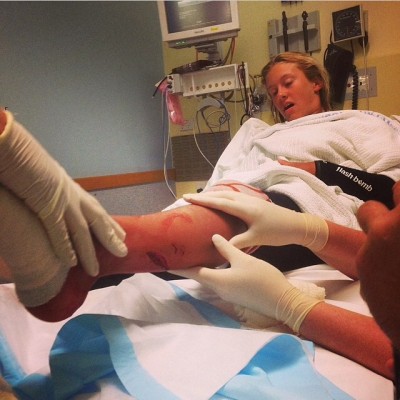 This weekend, surfer Kirra-Belle Olsson released graphic images of her shark attack that happened on Avoca Beach in New South Wales. But unlike other shark attack victims, Olsson isn't upset—instead, she's apologizing.
According to the 13-year-old Australian, the meter-long wobbegong shark was totally justified in taking a bite out of her leg, since she "dropped in" on its wave, something considered poor etiquette between surfers.
"I took the wave and then I twice felt something grab my foot, and I thought it was a mate behind me trying to scare me," Olsson explained to ABC News on Friday. "Then the third time it [the shark] swung me around and tried to pull me under. I saw the tail and I was just like, 'Whoa,' and I didn't know what to do, so I just started screaming."
Though the images are horrible to look at, Olsson said she felt little pain. Luckily, she was somehow able to get herself back to shore safely, where she was treated for deep lacerations on her leg and then transported to the nearest emergency room, at Gosford Hospital.
There, she underwent surgery on her leg and ankle. In recovery, she described the incident to her mother as "no big deal."
"She was like, 'Mum, I'm fine, it's just a couple of stitches.' Then I saw the photo and it's a bit more than a couple of stitches," Olsson's mother, Kyla told the press.
This is not the first time Olsson has come into contact with sharks. Just three weeks prior, she came face to face with one that was feeding on fish while surfing at Copacabana. But despite the scary encounter, Olsson is still smiling, feeling lucky that her injuries will not prevent her from pursuing a surfing career.
Later, in an interview with the Daily Telegraph, she further explained her thoughts on the incident. "It's their home, they're only doing what they do every day," she said. "It's not like they say, 'There's a person, I'm going to eat it.'"

Image courtesy of Kirra-Belle Olson's Facebook