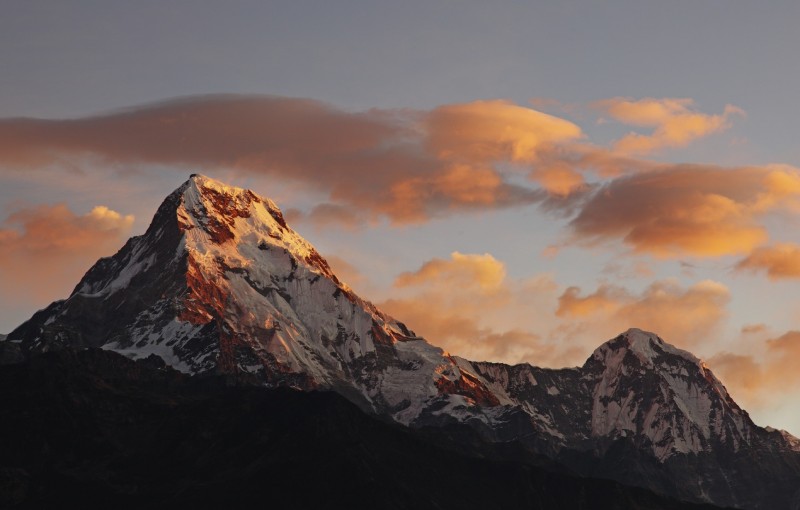 As cyclone Hudhud moves through India and hits Nepal, hiking season in the area is coming to a sudden and violent close. Though authorities claim that weather conditions are beginning to improve, category four storms, including massive avalanches and blizzards, have already claimed the lives at least 12 trekkers.
The incidents began on Monday when three villagers from the Phu district were caught in a storm and disappeared. Their bodies were not discovered until today when authorities went looking for the remains of five other trekkers, four Canadians and one from India who were also buried in a recent avalanche.
The neighboring district of Mustang suffered its own losses, as four hikers found themselves caught in a blizzard on Tuesday and were unable to escape the unforgiving conditions. In this area, rescue crews recovered the bodies of the two Poles, one Israeli, and one Nepali at the Thorong La pass.
Officials fear there will be other deaths confirmed, as October is Nepal's most popular tourist season and, according to The Wall Street Journal, more than 100 hikers were crossing the 18,000-foot Thorong La pass when the Tuesday storms came in.
Government official Yam Bahadur Chokyal told the Associated Press that 14 other foreigners have been successfully rescued, and army helicopters are currently flying over the area hoping to pick up other injured hikers. The rescued are being flown to the nearby town of Jomsom.
This latest news comes as a particularly heavy blow to the area, which had just begun to rebound after the tragic deaths of 16 Sherpas on Mount Everest in April.
*Update: As of Thursday morning, the death toll has climbed to 29. In total, 43 hikers have been rescued—among them, 15 climbers who are currently hospitalized in Kathmandu.
Image courtesy of benjamint444/iStock