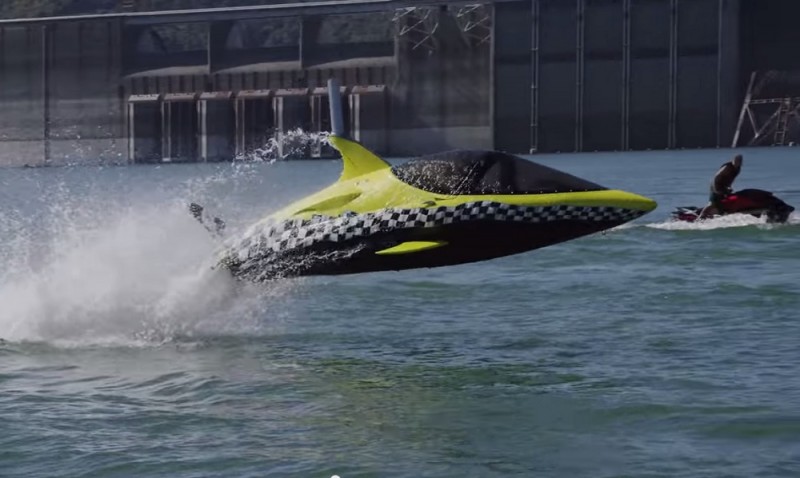 Move over jet skis, there are some new hi-tech water toys in town making current designs appear somewhat boring. Thanks to a recently-released video by Devin Super Tramp, we now have a closer look at water sports equipment that is looking to revolutionize the market this year.
My favorite is robotic dolphin by Seabreacher. This innovative new design takes us one step closer to realizing the childhood dream of riding a dolphin, and the footage (below) could not make it look more fun. Devin and his friends try a variety of models, expertly maneuvering each to perform dolphin-like dives and flips while their riders squeal with glee.
Dolphins not your thing? Don't worry, the crew also tried Jetovator's Flying Water Motorcycle as well as a jet-powered VW van from Freedom Flyers. Both models impressively fly over the heads of unsuspecting kayakers, soaking them in the process.
The designs themselves are equally impressive. The dolphins somewhat resemble a submarines, and are controlled by a joystick from the inside. In contrast, the flying motorcycles are mounted similar to pogo sticks, with the rider being fully exposed and in control of two handles. The van is somewhere in between, with the user exposed, but sitting and controlling from inside the vehicle.
Though I would gladly run out and buy both, with price tags currently between $6,000 and $10,000, it looks like I will just have envy the antics of Devin and his friends.
Check out the video of them testing this awesome new gear below:
Image and video courtesy Youtbe user devinsupertramp