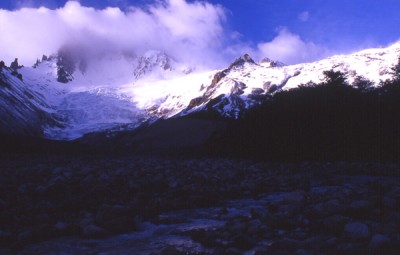 It was confirmed on Tuesday that Canadian freeskier JP Auclair and Swedish freeskier Andreas Fransson died in an avalanche on Monte San Lorenzo, which is located on the border of Patagonian Chile and Argentina, on Monday. On the same day, an unrelated avalanche on Argentina's Cerro Vespignani killed Liz Daley, a professional climber, AMGA-certified mountain guide, and snowboarder.
JP Auclair, Andreas Fransson
News of the avalanche and missing people on Monte San Lorenzo came via satellite phone to the police station in Cochrane, which is a small town that climbers use as an access point to the mountain. Auclair and Fransson were climbing with Bjarne Salen and Daniel Ronnbak, both of whom are photographers from Sweden. The group was working on filming a web series called Apogee Skiing, according to Fransson's Facebook page. 
When the avalanche struck, the group was in an extremely remote area of the 12,159-foot mountain located 18 hours from the closest city, as well as a two-hour flight just to the trail's head. Powder stated that a rescue operation could take as long as 13 hours.

Auclair, 37, and Fransson, 31—two of the world's best skiers—were ascending the mountain at the time of the avalanche. The two photographers, who were unharmed, helped authorities locate their bodies. According to Outside, flights over the mountain by authorities confirmed there were two bodies.
Liz Daley
A separate avalanche killed Daley, 29, while she was descending Cerro Vespignani, which is a 7,000-foot mountain near the town of Chalten in Argentina. Daley, who was accompanied by skier Drew Tabke, snowboarder Chris Coulter, skier and guide Kent McBride, photographer Chris Figenshau, and filmmaker Nick Kalisz, was from Tacoma, Washington. Her body was recovered on Monday night.
Her sponsor, Eddie Bauer, released a statement on Tuesday: "We are deeply saddened to report that yesterday, an avalanche in the Fitz Roy Massif region outside of El Chaltén, Argentina, took the life of Liz Daley, a member of our Guide team. Liz was on a ski mountaineering expedition with three other members of our snow sports team and two production crew members. The rest of the team is safe. Liz was an accomplished splitboarder, alpine climber and mountain guide who was born and raised in Washington. She was a beloved member of our snow sports team and will be sorely missed by all those who knew her."
Image courtesy of 2005biggar/Wikimedia Commons