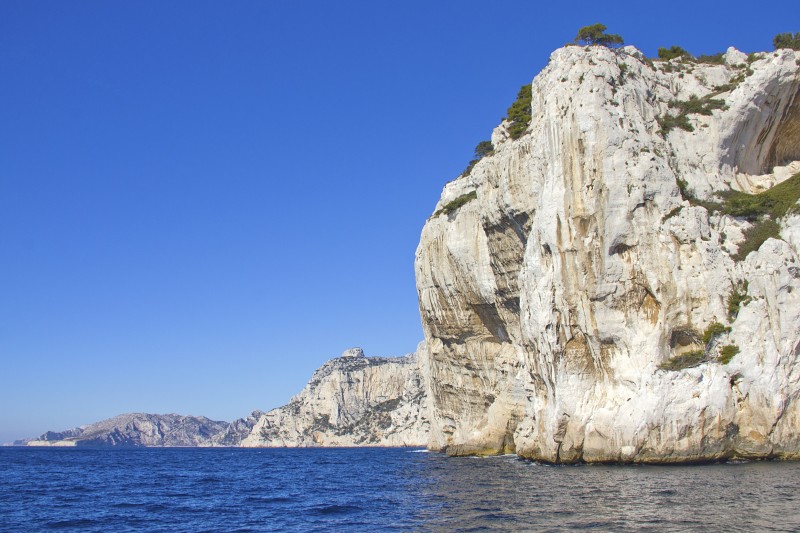 EpicTV recently published the third episode of the series Epic Aerials by the Green Twins, which features synchronized acrobatic paragliders Tim and Anthony Green travel around the world taking footage of old friends and new friends carrying out an array of extreme sports. With a bird's eye view, their work with kitesurfers, wakeboarders, mountain bikers, rock climbers, and other athletes provides more than most other action sports films.
The most recent episode takes the twins to the limestone sea cliffs in the French Mediterranean, where they meet up with climbers Etienne Seppecher and Aymeric Freze at the Calanques—a famous section of the cliffs. According to the episode's description, the area was developed by climbers George Livanos, Robert Gabriel, and Charles Magol in the 1930s.
In order to reach the climbing route, the two climbers had to sail the French Riviera to La Momie Directe, a 6b+ route up a spire that doesn't even fully connect to the main cliff, where the route continues.
"The fact that the cliffs have numerous routes that require different equipment makes it really important to choose the right start and finish to avoid facing unexpected gear changes and difficulties along the way," Seppecher said. "Also, climbing in the sun by the sea makes the rocks moist and salty resulting in rather bad friction."
While the cliffs made for some beautiful footage, they were in no way easy to reach. "The takeoff was too small and had huge boulders with overhead power lines at the end," said Tim Green. "If the engine tanked during takeoff or if we couldn't pull up fast enough, we would've been burnt toast."
Using a Canon 7D and a 16-35 millimeter lens, the pair had to haul their camera gear with them in a dry bag, along with auto-inflating life jackets, a paramotor, and tandem wing to the beach before launching from the cliff. They said the toughest part is timing, ensuring all the best shots are gathered.
Check out the episode, "Pocket Pulling And Pinnacle Hopping On The French Riviera," below: