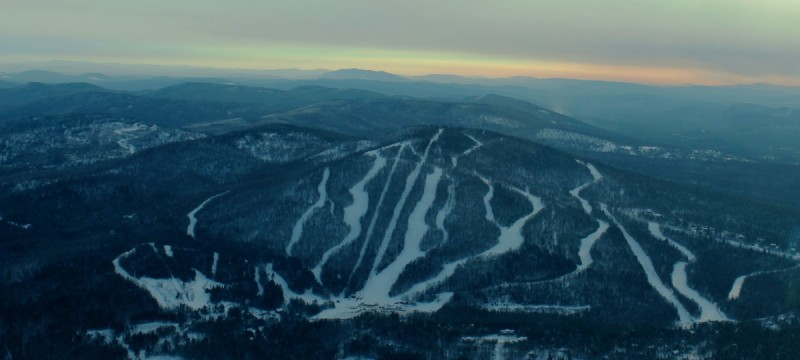 A small New England ski area is flipping the switch to solar energy by installing a large panel array.
Mt. Abram ski area in the western Maine town of Greenwood is putting in more than 800 panels, expected to provide some 70 percent of the hill's electricity needed each year.
Owners anticipate the 244.915-kilowatt, 803-panel, photovoltaic solar project will produce in excess of 280,000 kWh annually.
In the summer of 2013, the USDA awarded Mt. Abram a 25-percent matching grant, up to $235,000, from the Rural Energy for America Program (REAP). Payback on the project is expected in about four and a half years.
"Commitments to on-site, renewable initiatives insulate the ski area from escalating energy costs. Over two-thirds of our electricity requirements become indefinitely fixed," Mt. Abram Co-owner Matt Hancock said in a statement. "The 'SolGen' Project continues the advancement of our Clean Energy Game plan—utilizing abundant, local, and readily available resources wherever and whenever possible. We are making every effort to effectuate colder, snowier winters."
The solar array is yet another project for the environmentally aware ski area with 51 trails and five lifts managed by Mountain Rider's Alliance, a global group of snow sports devotees looking to create sustainable mountain playgrounds with community in mind.
In the summer, Mt Abram announced a snowmaking infrastructure project to greatly improve the energy efficiency of the system while increasing water flow and pressure to better adapt to a late starting winter and unwanted weather events.
The new system quadruples the uphill water capacity and pressure.
Mt. Abram General Manager and Mountain Rider's Alliance Co-founder Dave Scanlan said the new system will ensure they are able to open the mountain with more trails by mid-December and allow them to rebound faster from challenging weather.
"Having the ability to move more water onto the mountain will also allow us to revisit our terrain park options as well as looking at expanding snowmaking onto additional slopes," he said.
In recent years, the ski area has upgraded its on-hill snow-making guns to Low E towers, switched to a wood pellet heating system—eliminating the use of #2 heating oil—and became the second ski area in North America to install electric vehicle chargers.
Mt. Abram has two electric vehicle charging stations. They also put the used fryer oil from the kitchen into tanks that are converted by a Maine company into renewable fuel.
"We are extremely excited to continue to support Mt. Abram as Maine's sustainable mountain playground." Scanlan said. "Stabilizing this significant cost allows ever more attention to enhancing the skiing and riding experience. Outdoor winter enthusiasts care about our snow surface but they have become increasingly discerning about the practices we apply to create the surface."
There will be an official commissioning ceremony, followed by a tour of Mt. Abram's other environmental initiatives on November 6 from 11 a.m. to 12:30 p.m. Members of the press and public are invited.
Old school scented Mt. Abrams has a lot of spirit and funk. With nary a high speed chair lift, skiers and riders take the double chair, "The Way Back Machine," to schuss down winding trails that come with cartoon character names like Bullwinkle, Dudley Do Right, and Boris Badenov.
The old main base lodge burned down a few years ago and a temporary tent still stands in giving the friendly Loose Boots Lounge an adult summer camp feel. That interim tent is heated by a wood pellet boiler—the process making a light ash that can find its way into a compost pile or garden.
Image courtesy of Mt. Abram