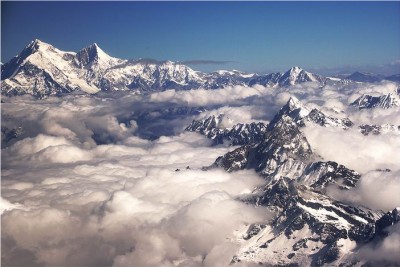 An avalanche on Nepal's Shisha Pangma peak killed two climbers on Wednesday. Sebastian Haag from Germany and Andrea Zambaldi from Italy were part of a group of five attempting to summit the peak, which sits at 26,335 feet, when the avalanche struck.
The group also included Benedikt Bohm and Martin Maier, both from Germany, and Ueli Steck from Switzerland. Haag, Zambaldi, and Bohm were attempting to climb and ski two 8,000-meter peaks in seven days—the first being Shisha Pangma and the second being 26,906-foot Cho Oyu.
Early on Wednesday, the full team was nearing the peak of Shish Pangma when Haag, Zambaldi, and Maier became caught in an avalanche, which swept them roughly 1,800 feet. A rescue team was immediately called for assistance, but their efforts were unsuccessful. However, Maier somehow survived the avalanche and made it back to Camp 3 about 24 hours later, where he was was met by a team of Sherpas who were set to embark on another rescue search. He was transported to base camp for further medical attention.
Image courtesy of BetacommandBot/iStock