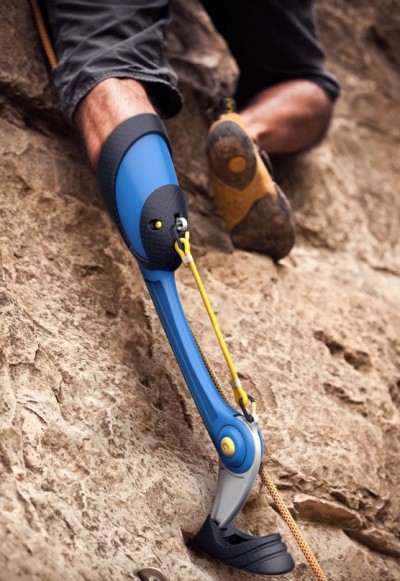 Pratt Institute student Kai Lin was inspired by the structure of mountain goats' hooves that allow them to scale almost-vertical walls in his design for a prosthetic leg made specifically for rock climbers and mountaineers.
What began as a school project grew into a product that has the possibility to be used by real climbers. In traditional prosthetic legs, Lin said there are a number of issues that make them less than ideal for climbing such as strength loss, passive articulation, no feedback, and no grip, all of which are further explained in the product description.
His design, the KLIPPA, features replaceable rubber, an elastic pivot joint, a small contact surface, and a hoof-like sole.
More specifically, the features of mountain goats Lin looked to for ideas included cloven hooves, which have sharp edges that add traction and a soft inner that creates suction while climbing. The hooves also squeeze to grasp rock and split when given force to climb more efficiently. Lastly, the dewclaws add more support and stability.
Lin wrote a disclaimer within the product page, which was published in May, that the KLIPPA is still a concept in progress and has not yet been tested with climbers. The only question we're left with is how one of the images in his portfolio (right) ties in—the prosthetic was at least worn long enough to take a photo, or it was photoshopped.
"Inspired by mountain goats and their exceptional climbing ability, KLIPPA is a prosthetic leg design for amputee rock climbers. Its unique features augment human capabilities and challenge the limitations of existing prosthetic legs, allowing amputees to climb efficiently and comfortably," the product description reads.
Image courtesy of Kai Lin/Pratt Institute Portfolios