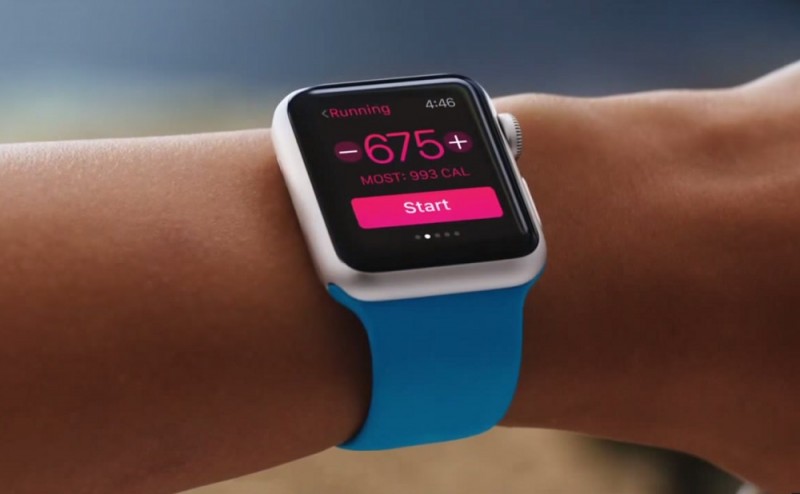 Last week, Apple unveiled the iPhone 6 and consumers scrambled to pre-order the latest advancement from the company. But for the first time, the launch of the iPhone was not the day's biggest news. Apple also announced its expansion into a new market—one that, until now, it had left mostly untouched. Driven by the recent popularity of fitness trackers, Apple plans to enter into the health and fitness community with the release of the Apple Watch. But is the newest Apple invention really all it's cracked up to be?
The Pros
Leaning on our obsession with individuality, the watch will be available in 34 designs. So before you even put it on, Apple is hoping your ability to mix and match two sizes, three case models, 11 interface designs, and multiple wristbands will get you to abandon your Fitbit or Jawbone. "Selecting a watch is very personal, As with all things you wear, how it looks is at least as important as what it does," Apple states on its website.
The touch display also makes this new model particularly appealing to consumers who are already accustomed to a smartphone market dominated by touchscreens. Additionally, hoping to win over those worried about the size of the screen, Apple has incorporated a small knob on the side of the watch that zooms the display in and out.
But the main draw for many will be the multiple functions available on this small, wearable device. Straddling the line of smartwatch and fitness tracker, the Apple Watch allows users to text message, send doodles, and make phone calls, as well as tell time (one should hope) and track your heart rate.
The integration of Apple's HealthKit is truly what makes this a fitness-focused wearable. HealthKit allows users to organize all fitness information collected through third-party apps on one platform. So, for the first time you can view calories burned, weight, heart rate, blood sugar, cholesterol, and all your health numbers in one convenient interface.
And, to make your life even easier, Apple hopes to have a leg up on the competition by allowing easy and automatic syncing that is available between all its products. Eliminating the need to sync your data is something that even fitness giants like Garmin and TomTom have yet to perfect.
The Cons
It may sound all-encompassing, but for those who already wear fitness trackers, the Apple Watch functions may not be all that impressive. According to interviews by HealthData Management, GlobalData's Niharika Midha said the "Apple Watch is not significantly better than the existing devices in terms of health tracking mechanisms." Another critic, Paul Jackson of the U.K's Ovum Media, said the "health and fitness apps look nice, but don't improve significantly on other existing (and cheaper) solutions for those with more than a passing interest."
Testers have echoed this sentiment, saying Apple has simply taken the heart-rate monitor, accelerometer, and Bluetooth technology already available on other devices and re-purposed them for the Apple Watch. But Apple developers insist that, similar to the iPhone, this new model is superior not because of new technology, but because Apple has refined these already-popular features.
Another drawback is size. Compared to Fitbit or Jawbone, which are slim and boast a battery life of up to a week, the Apple Watch is relatively large and bulky. The company has yet to comment on the battery life, leaving many fitness watch wearers nervous about its ability to track sleep habits, as the watch may instead need to be charged at night.
Another main reason the Apple Watch may not stifle the competition is its price. The $350 price tag may make it much less appealing to the target audience that has been enjoying other health trackers for years that range from about $100 to $150.
Immediate Response
Though it may not be a significant improvement in software, there is no doubt that dominant fitness tracker companies are taking notice.
In fact, after Apple's announcement, Jawbone found it necessary to release a comment on their blog. Travis Bogard, vice president of product management and strategy, announced the newest UP (Fitbit interface) will be open to everyone, and will be available through every platform. "Our vision is not about winning a hardware arms race, or just moving more units than the other guys. It's about people, and the thing we all cherish the most—our health, and the health of our family and friends," Bogard wrote.
Nike+ Fuelband, another possible competitor, has also announced that instead of releasing a new Fitband this year, the technology will be integrated into the Apple Watch. This third-party app, along with RunKeeper and many others, will be offered in coordination with the HealthKit.
So the debate continues.
Global Director of Customer Knowledge at U.K.-based consumer behavior analytics firm Dunnhumby, Julian Highley told Mashable, "Smartwatches will make a moderate impact on the fitness tracker category, but not kill it […] For the seriously health committed, they're looking for more features like heart rate monitoring that the majority of smartwatches don't provide today."
But Waqas Makhdum, vice president of marketing at mobile solutions firm Kii, disagreed. "Over time, the Apple Watch will come with most of the must-have features available in fitness trackers," he told Mashable. "Combine that with a rich set of third-party apps, and you can see the dedicated fitness trackers following the same fate as portable GPS devices."
So, as the 2015 launch date fast approaches, we are left wondering—will this be the next innovation in fitbands? Or will the Apple Watch fall flat?
Image is screenshot of video by Apple Werbung/YouTube