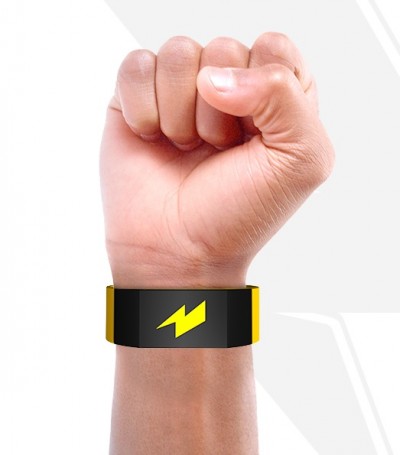 Apparently, Americans are in need of a little extra motivation.
At least that's what prompted Maneesh Sethi to create the new fitness tracker and self-motivator, Pavlok. Named for the famous Pavlov experiment, this handy little device may resemble your unassuming Fitbit, but be warned—it's actually a super-charged wristband meant to shock you into good behavior.
Sound harsh? Creator Sethi has long believed that the most successful way to promote good habits is through negative reinforcement. In fact, the entrepreneur became an internet sensation last year when he hired a woman via Craigslist to slap him every time he tried to log into Facebook.
In a way, his latest creation is an extension of that experiment. The user programs Pavlok with goals, such as working out every day or getting up early. Then, the device sends a text to your phone, reminding you to stick to the parameters you set. But if you waver, you can receive a shock from the bracelet and the app can charge you money.
"It's not about the shock as much as it is about training your brain to do the things you say you're going to do," Sethi said in an interview with Boston.com. "Negative reinforcement, aka punishment, really does make people pay attention."
Sethi realizes that, just as we need negative reinforcement, positive rewards can be great motivators as well. This is why Pavlok also offers incentives for good behavior, such as a financial reward or other prizes.
Though Pavlok won't ship nationwide until early 2015, the website is open for pre-orders with a number of tester reviews available to encourage you to shell out the $250 for the punishing wristband. Though it still doesn't sound like the fitness device for us, you can learn more about it on the website.
Image courtesy of Pavlok's website