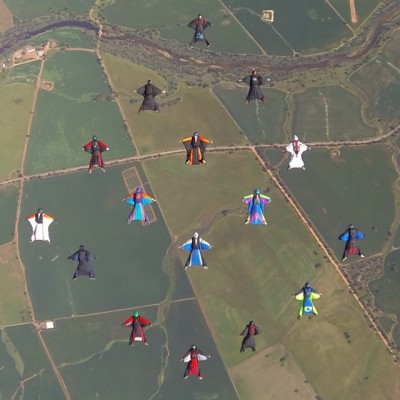 A group of wingsuit pilots set a new record in Western Australia with their jump that included 16 people this past weekend. The jump took place at 14,000 feet above York, which is located east of Perth. Thanks to ideal weather conditions, the group was able to maintain a diamond formation, made even more impressive by their colorful suits.
The previous record was set by a group of 13 people in Queensland in 2009, and judges from the Australian Parachute Federation were in attendance to verify each record.
"It's tricky to hold a formation, to get everyone in that slot and so we're talking about distances of between half a meter to two meters between each flyer, and we've got our forward speed of 150 kilometers," Paul Gresser, one of the pilots, told the Australia Broadcasting Corporation. "The current national record stands at 13, and we've been floating the idea in WA for a few months. Our coach, Scott Paterson, he organized our record attempt.
"We have some really strong wingsuit flyers in WA. I think this is great for skydiving in WA—we're going to keep pushing the record."
The team, which refers to itself as the West Coast Wingsuit Mafia, already has plans to break the record again with a group of 25 in November. Check out a video of the jump.
Image courtesy Scott Paterson/Instagram