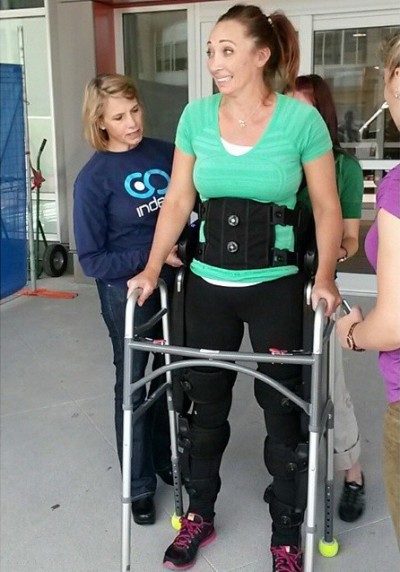 Former Olympic swimmer Amy Van Dyken-Rouen made headlines earlier this summer when she was involved in a serious ATV accident. Yesterday, she once again captured attention after releasing images on Instagram of her first steps since doctors broke the news that she was paralyzed from the waist down.
Van Dyken-Rouen, who had formerly lived a very active lifestyle in Arizona with her husband, Tom Rouen, was left with a completely severed spine after being thrown from her ATV in June. But since then, the four-time gold medalist has been nothing but inspirational, radiating positivity in the face of a seemingly negative situation.
In interviews, Van Dyken-Rouen has talked about her determination to one day walk again, setting her mind to the task of living a normal life, similar to the way she approached swimming. "This is a new challenge. I'm taking it head on. I'm not afraid of it. I welcome it. This is more than just for a gold medal. This is for my life," Van Dyken-Rouen explained to TODAY's Matt Lauer. "It's a setback, that's all it is. And then we're going to rock and roll."
She has also relied heavily on social media to connect with fans and friends, keeping them posted on her progress while remaining comical and upbeat. Just last month, Van Dyken-Rouen posted photos of her first attempt to drive with humorous captions like "WARNING!! Stay off the sidewalk in Colorado!"
Her latest feat marks a huge step in her road to recovery. But the humble Olympian wanted to be sure to give credit where it was due, sharing details through Twitter about the robotic exoskeleton attached to her legs and midsection that provides assistance. "I want everyone to know… I was NOT walking at all under my own power." Van Dyken-Rouen said. "I was using a type of #exoskeleton it was not me moving it."
The use of the exoskeleton does not take away from the momentous achievement. Van Dyken-Rouen shared her excitement saying "Here it is…I'm WALKING!!! #onestepatatime #itcould happen." She leaves the hospital in Colorado full of optimism and prepared to tackle the challenges that will come her way.
Check out her first steps below: