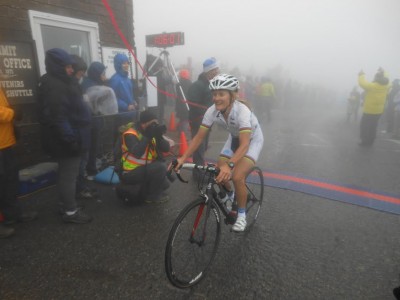 Marti Shea did again what she usually does in a bicycle race up the Northeast's tallest and toughest peak.
She broke away from the other female riders at the start, rode steadily with some of the strongest male riders, and then wheeled across the finish line to victory.
But on August 16 in the fog, wind, and cold at 6,288 feet, Shea pedaled into the history books by winning a record fourth Mt. Washington Auto Road Bicycle Hillclimb, the 42nd annual.
There's more though. It was also the 11th time she has won a bike race up the New Hampshire mountain. Shea also dominates Newton's Revenge, the July race up the peak. She won it again last month—for the seventh time in seven tries.
"Down below, the weather was good," Shea said. "But around four miles, the wind started and then it was off and on—a side wind, then a head wind. I was losing body temperature. There have been a few races here with conditions like this, but this may have been the worst I've seen. Anyway, I'm happy about my fourth win."
Shea, 51, of Marblehead, Massachusetts was among the 517 cyclists finishing the race. Her winning time up the 7.6-mile auto road was 1:06:01.
The Boston University graduate hoped to finish the climb in less than 65 minutes, but the cold and windy weather got in the way of that plan. The temperature was just over 40 degrees and winds about 35 miles per hour for a wind chill factor of 25 degrees when the top riders reached the summit.
Shea's time placed her 17th overall and nearly eight minutes ahead of her nearest challenger. She became the first woman to win it four times after she had been tied with Aimee Vassee with three wins each.
"I got a record, finally," she said.
Shea characterized the weather as "uncomfortable conditions."
"It was very cold today," she said. "Normally I'm not cold at all, but my hands were getting cold. It was just cold."
For the first time in a rockpile race, she felt the weather impacted her performance.
"I felt like I was losing body temperature quickly," she said.
Also feeling the cold was overall winner, John Kronburg Ebsen. The professional racer from Denmark now living in Taiwan was victorious in 52:53 and stood answering questions near the finish line while wrapped in a blanket.
"This is really freaking cold," he said. "I couldn't even shift my gears because I was really shivering."
In his first race up the mountain, Ebsen, 25, didn't do the practice run. His strategy was simple—stay on the wheel of race favorite Cameron Cogburn.
Cogburn is a professional rider and graduate student on leave from the Massachusetts Institute of Technology. He's won the Hillclimb twice.
"I knew I should follow Cameron," Ebsen said. "He's a really strong rider. When it got steep, then I would go." Ebsen began pulling away before the six-mile mark and was 57 seconds faster than Cogburn, who finished in second place.
"I knew his strategy," Cogburn said. "He sat on my wheel for 39 minutes."
Cogburn said he was feeling less than 100 percent, having recently returned from hard training with his team in the Rockies. "But I kind of like this weather," he said. "You're racing up this road, and clouds come at you."
More than 600 riders started the race, including two unicyclists and three tandem teams. The race is a fundraiser for the Tin Mountain Conservation Center in Albany, New Hampshire, which offers classes, workshops, and other programs about the natural world.
Images by Marty Basch