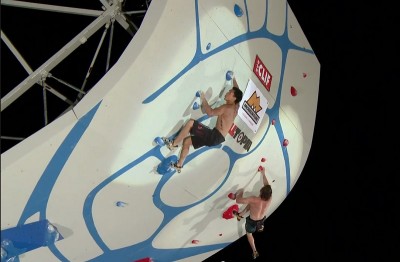 Solo climbing has long been considered one of the purest and most dangerous versions of the sport. Maybe that's why elite solo-climbers are constantly seeking new ways to challenge themselves in a fun, but safe way. CLIF Bar's inaugural Psicobloc Masters Competition in 2013 did just that, challenging elite athletes to face off in a solo-climbing competition over a deep body of water.
After last year's success, the second annual competition was set to be just as thrilling, with novice climbers making the roster, as well as returning champions looking to reclaim their titles. Held in Park City, Utah last weekend, this year's routes were created by master climbers Miguel Riera, Dani Andrada, and Steven Jeffrey. Though they were reported to be a bit easier than last year, climbers were still challenged to climbs rating 5.13a for women and 5.13d for men. They were then asked to tackle different routes numerous times in a series of heats, only moving on to the next round by racing up the 50-foot inverted wall faster than their opponent without losing their footing and plunging into the pool beneath. One climber, Isaac Caldiero, proved this was not such an easy task when he fell in qualifiers, not only falling out of the competition but hitting the water with such impact that it burst his eardrum.
Other climbers were more successful. Sixteen-year-old Texas native, Clair Buhrfeind claimed the win in the women's division, edging out reigning SCS National Champion Delaney Miller. But the real showdown was in the men's final, when up-and-coming climbing sensation Sean McColl took on last year's runner-up, Daniel Woods. Though it only lasted for about 45 seconds, the two were neck and neck most of the climb. At the last second, McColl was able to pull ahead, and Woods once again narrowly missed the title.
Check out the video of his victory below, and learn more about the series on the website or on Facebook.