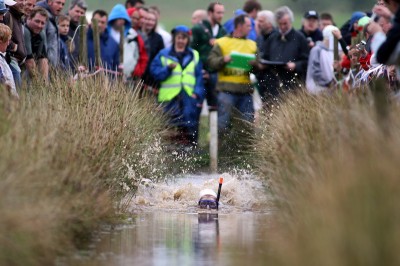 Bog snorkelling isn't a sport that's on most people's radars, but thanks to recent international headlines, news of the unique activity is spreading. In short, it's a sport that requires participants to swim a 60-yard muddy bog drain two times with the help of a snorkel, mask, and flippers. However, they aren't allowed to incorporate traditional swimming strokes, relying solely on the strength of their legs.
In order to compete, participants must simply be 12 or older. While it's not a requirement to wear a wetsuit, most people usually opt for one. The Northern Ireland Bog Snorkeling Championships were held last weekend at Peatlands Park, with the first championship held in 1985.
There are separate men's and women's events, and it typically attracts about 200 people in total. This year's event organizer, Colin Gates said the championship is held as part of International Bog Day and encourages natural resource preservation.
"The atmosphere was fantastic. It was just mental," said Gates, according to The Irish Independent. "And the showers had no effect whatsoever on the competitors—they were already as soaked as could be."
Currently, the world record is held by Dineka Maguire, who set a time of one minute and 23 seconds, with her speed of 2.95 miles per hour. Check out the video below to learn more about bog snorkeling from Maguire.
Image courtesy of Rud-gr/Wikimedia Commons