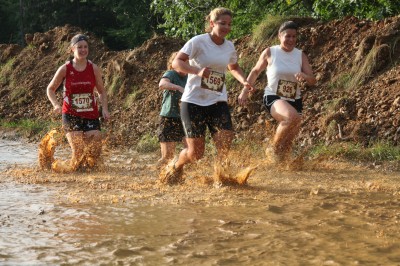 This year saw a surge of fun run popularity. But, runners beware. As the hype around these events begins to die down, the Better Business Bureau is encouraging participants to do their homework to avoid becoming victims of the newest racing scandal.
According to a statement released earlier this week, the BBB has been fielding complaints from runners who have been ripped off by many popular racing organizations. Organizers like the Dirty Girl Mud Run, the Great American Mud Run, and the Electric Foam 5K, have been causing an uproar because of last-minute cancellations and an unwillingness to provide refunds.
This model is nothing new. In March, Outside Magazine did a feature article on race organizer Dean Reinke who, since 2009, had organized and canceled hundreds of races, pocketing the money in the process. He was eventually shut down by the BBB, but his story demonstrates the ease by which race managers can trap registrants.
Some companies are seeking to mend reputations, however. Dirty Girl originally stated those who registered for their canceled Buffalo and Charleston events "wouldn't receive refunds under any circumstances." Now under new management, the race series is backpedaling and, according to Facebook, will begin issuing refunds.
But others like the Electric Foam 5K, which filed for Chapter 7 bankruptcy in June, is still holding onto collections and avoiding comments. The newest race creating unrest is Cleveland's 5K Foam Fest, which was canceled via email just four days prior to the event, stating, "Unfortunately, we're not able to provide you with a refund." The organizers later dismantled the website, disappearing into the Internet abyss as of July 17.
Two Wichita runners who have fallen victim to the race rip-off aren't surprised, and commented in a Kake.com interview, "We had one a couple years ago, a half marathon that got canceled because there wasn't enough registered and then we had another 5K get canceled on us too," runner Tonya Wells explained.
For those who want to participate in future events, the BBB simply suggests following a few rules to keep yourself guarded, and fun runs fun:
Do your research: Check out the company's BBB Business Review and search online for additional information before signing up.
Understand the terms and conditions: In some cases, promoters say on their websites that they don't offer refunds, but many consumers don't read the fine print before hitting "I agree" to long online documents.
Check the local venue: Contact the park or other venue to confirm the event is scheduled.
Pay with a credit card: Charges made on a credit card can be disputed after a purchase, whereas debit, cash, or wire transfer transactions cannot.
Keep documentation of your order: After completing the online registration process, you should receive a confirmation receipt. Print out and keep a copy of the confirmation and any supporting documentation for future reference.
Check out the charity: Most fun runs are for-profit, but if the promoters claim a portion of the proceeds will go to charity, check it out on give.org to make sure your donation is going to a trustworthy charity. Be wary of sound-alike names similar to more famous charities.
Image courtesy of Slick-o-bot/Wikimedia Commons